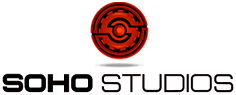 Soho Studios is Wynwood's largest private venue. Featuring over 65,000 square feet of space.
Miami, FL (PRWEB) July 18, 2012
Glenn Orgin of FIP Realty Services is ushering in a new look at Soho Studios, located in the industrial chic scene of Wynwood, Miami. FIP Realty Services, a commercial real estate management company, has decided to shed Soho's skin and step forward with a new logo to trailblaze a fresh style for Miami studio space. The apex of this transformation is best seen in their new video promotional trailer released today.
Soho Studios is a massive property at the center of attention across many industries searching for rental space in Miami. The 65,000 sqft. venue has seen brands like Cadillac, Lalique, American Apparel, Absolut, and many more industry leaders participate at this event space. In addition to hosting top brands, Soho Studios is an ideal location for film and television production studios in Miami. Most recently, Summit Entertainment occupied Soho Studios while producing Step Up Revolution - the major motion picture scheduled to release July 27, 2012.
There's a lot going on at Soho Studios and the streets of Wynwood are constantly buzzing about what's going to be next. This space is always in the spotlight during the world's most popular events that take place in Miami - Winter Music Conference and Art Basel. During Winter Music Conference, the walls of Soho were pulsing to the beats of Swedish House Mafia for Absolut's Greyhound launch - the Grapefruit Vodka. During Art Basel Miami Beach many world renowned art shows have found a home at Soho, including Scope, Art Asia, and Pulse. Soho Studios strives each new year to welcome a more impressive scene for these events and several others throughout the season - such as Miami Fashion Week, South Beach Wine and Food Festival and Miami Film Festivals.
The simplicity of a large rental space and the excitement of transforming that space is echoed in the new logo - a mix of circular imagery of industrial gears in a well-oiled machine. This look is sleek and the message is clear, there's no challenge that Soho Studios cannot handle. This is the business attitude of Glenn Orgin at FIP Realty Services who has shifted Soho Studios, moving the space passed its dormant history into a new era - setting the trend in Wynwood, Miami.
Miami has always been a sexy city attracting a lot of attention and Soho Studios is increasing that demand to industry brands, entrepreneurs, music festivals, and film studios - each wanting a piece of the Miami magic.
About Soho Studios:
Soho Studios is located 2136 NW 1st Avenue Miami, Florida 33127. This property is an epic facility spanning one square block of the Wynwood district. The management company handles the long term and short term rentals of this real estate, they can be reached at 305.600.4785.
FIP Realty Services is a South Florida Real Estate brokerage and management company. Soho Studios is one of many properties the company manages throughout South Florida.