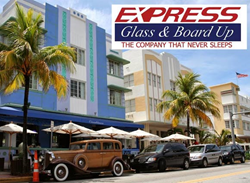 Miami residents and businesses expect services to be open when they want them, including glass repair
Miami, Florida (PRWEB) May 25, 2016
May 25, 2016 - Miami, FL.
Express Glass of Miami, a top glass repair service for both residential and business customers, is proud to announce that its 24/7 call center will be functioning on Memorial Day, 2016. While many competitors close for the holiday or postpone even emergency repairs to the following Tuesday, Express Glass honors its commitment to Miami to be the 'company that never sleeps.'
"Miami residents and businesses expect services to be open when they want them, including glass repair," commented Yaniet Santos, General Manager of Express Glass. "The reality is that quite a few break-ins and accidents happen on Memorial day, and a busy restaurant or a frightened homeowner can't wait for an emergency repair. Accordingly, our call center will be taking calls and we will be operating on Memorial Day, 2016."
Interested parties can find the company phone numbers, not only for Miami but all of Miami-Dade county at http://www.expressglassfl.com/miami-glass-window-repair/. There in addition to general information on glass repair, one can also find an online form to contact the company if email is easier.
Miami is South Florida's City that Never Sleeps
The Northeast has New York City, California has Los Angeles, and Florida has Miami. Each area has a 'city that never sleeps,' and accordingly the residents of each city expect commercial and residential glass repair services that also 'never sleep.' Even on busy holidays such as Memorial Day, Independence Day, or Labor Day, Miami businesses and homeowners expect to be able to pick up the phone or their Web browser and contact a reputable glass company for emergency repairs. Accordingly, Express Glass is announcing it will indeed be open 24/7 on that busy holiday, occurring Monday, May 30, 2016.
About Express Glass Repair and Board Up
Express Glass and Board Up Service Inc. is a family owned and operated glass repair business with more than 20 years of experience. Their professional technicians and the large variety of inventory make Express Glass the top glass repair service. If customers are looking for Fort Lauderdale glass repair or glass repair coupons as well as Miami and Lake Worth, Florida, glass repair, please reach out to the company for a free estimate. Glass repair coupons include; 24/7 emergency glass repair, sliding glass door repair service and window repair and replacement for homes and businesses. Express Glass professionals will handle any glass replacement situation efficiently. Home or business glass repair is the company's main priority.
Express Glass Repair and Board up
http://www.expressglassfl.com/