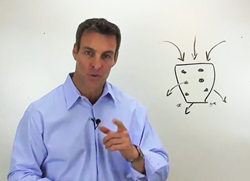 Today, those [follow up] processes are becoming much simpler - you practically only need to do the work once, implementing the system… From there, most of it is automated, and the possibilities are endless
MIAMI, FL (PRWEB) May 17, 2013
Miami's top marketing group, Renegade South Florida Entrepreneurs (RSFE), announced the alluring topic of its next monthly meeting: 'Building a robust follow up process'. During the 5-year anniversary celebratory event taking place on May 23, from 3:00 - 6:15 p.m. in Hollywood, Fla., RSFE Chapter Director Andrew Cass will discuss tactics such as direct mail, email and text marketing, guaranteed to maximize the results of existing lead capturing systems.
According to data gathered by MarketingSherpa, 68 percent of B2B businesses put significant effort into garnering a new sales lead for future conversion. However, a McGraw Hill study observed that 48 percent will never follow up with a prospect. "Because most companies drop the ball in pursuing their already qualified leads, keen business owners can hugely benefit from developing a strong follow up process, as that can quickly establish them as market leaders. By taking advantage of what they already have - a qualified prospect - they automatically get ahead of their competition," declared Cass.
Remembering RSFE's first meeting, 5 years ago in a small room in Coral Gables, with one tenth the number of attendees, Andrew said the upcoming event will be about celebrating the achievements of many members who have successfully proven the effectiveness of a strong 'sales funnel' throughout the years. "That's why I want to talk about fixing the funnel this month – I have seen people and businesses grow exponentially by implementing simple steps in their sales processes. Today, those processes are becoming much simpler - you practically only need to do the work once, implementing the system… From there, most of it is automated, and the possibilities are endless," he says, convincingly.
With 80 percent of sales only being made on the fifth to twelfth contact, as stated by that same McGraw Hill study, Cass strongly recommends business owners take a multimedia approach, and use methods such as direct mail, email and text message marketing to stay in contact with prospects and existing customers, and accelerate the process. "It's fairly inexpensive and practically effortless to have a text message campaign in place for qualified leads, for instance. Reminding them of something they have at some point shown interest for, keeps that business at the top of their mind," confirms Mande White, Marketing Director of RSFE.
The following video features Andrew Cass presenting more event details: http://nobsmiami.com/event/. First-time guests are welcome to join, free of charge, and encouraged to arrive at 2:00 p.m. for a personalized orientation. They can receive up to $1,000 in free gifts from the #1 Direct Response Marketing group in the U.S. [GKIC].
In the video, Andrew guarantees those attending will be blown away as they identify where they might be currently underestimating their own treasure. "Depending on the size of the business, it can be as much as double their annual income, and that should be enough reason to attend this event." More information about RSFE can also be found at http://www.nobsmiami.com.
About Renegade South Florida Entrepreneurs / GKIC Miami Chapter
Hosts Andrew J. Cass and Mande White are both co-authors with marketing guru Dan Kennedy in The Ultimate Success Secret: South Florida Edition. RSFE is the Miami Chapter of the renowned Glazer-Kennedy Insider's Circle, in which south Florida's brightest entrepreneurs gather to discuss ideas and help each other achieve breakthroughs in their businesses.
Andrew is the Direct Sales and Marketing Strategist, 'Dan Kennedy Certified' Business Advisor, author, speaker and owns his own Mobile Marketing business. Mande has more than 10 years of experience in supporting some of the most successful Internet Marketers in the U.S., advising on strategy, product offerings, traffic methods and conversion techniques. Additional information is available at http://nobsmiami.com.