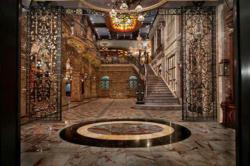 From glamorous bridal photo sessions to luxury weddings and receptions, The Cruz Building in Coconut Grove offers brides a storybook castle setting in the heart of Miami.
Miami, FL (PRWEB) August 15, 2012
A little over a year ago, The Cruz Building stood empty and desolate. The majestic, castle-like mansion complete with ornate, wrought ironwork and French architectural antiques, appeared to belong in the heart of New Orleans' French quarter or a Parisian boulevard. Now with its spiral, marble staircases and hand painted murals fully restored, The Cruz Building in Coconut Grove hosts some of Miami's most unique and lavish weddings. This summer, it will be the location for an exclusive series of bridal events.
Partnering with a select few of Miami's most exclusive wedding planners and vendors, The Cruz Building invites brides and their fiancés to experience an intimately magical evening where they will meet some of Miami's most celebrated wedding planners, caterers, designers, florists, photographers, cake artists and décor professionals. They'll also get to explore the latest food, drink, décor, dress and accessory trends—and discover spectacular ideas to make their wedding day dreams into a reality.
Aptly titled "The Bridal Experience", the two and one-half hour seminars will immerse guests in the world of a luxury wedding experience. The events will take place Wednesday evenings beginning on August 15, and run through September 5th. Each event will begin at 5:30 PM and have a unique theme and focus dear to the hearts of brides planning their once-in-a-lifetime day.
August 15: Planning a Celebrity Style Wedding
August 22: Top 2013 Wedding Ideas & Trends
August 29: 15 Ways to "WOW" Your Guests
September 5: Creating Your Own Unique Wedding Experience
The event is free for brides and their wedding party, but space is very limited. Brides wishing to attend any one of four events taking place on Wednesdays through September 5th need to RSVP in advance by calling 305 508-9500 with RSVP code PR20. For more information, visit The Cruz Building Web site at: http://www.CruzBuildings.com.
About The Cruz Building
The Cruz Building is a private, luxury venue located in the heart of Miami's historic village of Coconut Grove. Available for everything from grand weddings and social celebrations to lavish corporate events, it offers guests exclusive use of the entire building and all three levels and outdoor terraces to host luxury events. For more information, call 305 508-9500 or visit the venue's Web site at http://www.CruzBuildings.com.