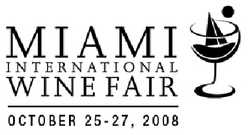 The increase in global exhibitors at this year's Miami International Wine Fair is truly exciting and reflects the diversity of wine choices and influence Florida holds in the industry
Miami, Florida (PRWEB) October 9, 2008
The Miami International Wine Fair is one of the largest wine fairs in America, expected to attract over 7,000 industry professionals and wine aficionados who will have the opportunity to taste nearly 1,200 wines from 15 countries encompassing 65,000 square feet of exhibit space. Scheduled for October 25 through 27, 2008 the Miami International Wine Fair ranks among the top five wine shows in the country and attracts a growing national trade audience in addition to Florida-based consumer and trade influencers.
Known as a fine wine show, the Miami International Fair will feature wines from some of the world's established wine country leaders such as Spain, France, Italy, the United States, and Australia, many of which will present their finest wines in the Collector's Club, an exclusive selection in the Grand Tasting Hall. Perhaps the most exciting 2008 trend will be the increasing number of emerging wine countries who have chosen to debut their portfolios at the Miami International Wine Fair. New exhibitors include: Castilla León and Castilla La Mancha regions from Spain; Chateau Indage Ltd., one of the largest producer of wines in India; Romanian wineries such as Terra Romana, Prahova Valley and Byzantium; Wines from Brazil; Adega Cooperativa de Redondo from Portugal; and Wines of Uruguay.
"The increase in global exhibitors at this year's Miami International Wine Fair is truly exciting and reflects the diversity of wine choices and influence Florida holds in the industry," said David Bernad, Co-Founder and General Manager of the event. "Together with our new partners Emporio Ferial S.A., we are helping to build the Miami International Wine Fair as a gateway for wineries to penetrate the U.S. market, and for regional and national wine buyers to discover new products. Thousands of industry professionals including over 100 out-of-state buyers representing hundreds of millions in annual wine purchasing power and presence in all 50 states are scheduled to attend our event making this the most comprehensive trade experience we have hosted to date."
The Miami International Wine Fair has also attracted top national corporate sponsors, including: SourceWater; Sherry Council of America; Comcast; and Infiniti, who will present a check for $20,000 to benefit the American Red Cross during the Opening Ceremonies on the first day of the Fair.
About Miami International Wine Fair:
The Miami Intl Wine Fair is owned and managed by VINTRADE LLC, a South Florida based corporation established by David Bernad and Madrid based Emporio Ferial S.A., an international event planning and production company that organizes dozens of annual wine shows, including Iberwine. The 7th annual edition of the Miami International Wine Fair is scheduled for October 25-27, 2008 at the Miami Beach Convention Center. This year over 7,000 industry professionals and wine aficionados will taste nearly 1,500 wines from 15 countries presented on more than 60,000 square feet of exhibit space. Among other highlights, the 2008 Fair will draw hundreds of buyers from states outside Florida, and will feature an exclusive Collectors' Club for VIP consumer and trade guests. For a complete schedule of events and exhibitor information, please visit http://www.mimaiwinefair.com. Members of the press are invited to attend the Opening Ceremony.
Contact Information
For additional information please contact:
Trade Contact
Helen Gregory/Rebekah Polster
HG Marketing
718-403-0097 / 646-621-3559
info@hgmarketing.net
Florida Media Contact
Dejha Carrington/Alexis Knapp/Dana Rhoden
Treskoi PR
305-751-9641
dejha@treskoipr.com / alexis@treskoipr.com / dana@treskoipr.com
###