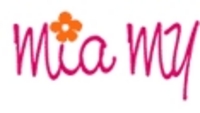 This was the perfect gift for my daughter. She loves that she can create her own
Orlando, FL (PRWEB) March 30, 2009
Announcing the launch of "Mia MY Creations", a new company that promotes creative self-expression for tween girls - those in that in-between age when they're "too young for boys, and too old for toys." The launch of Mia MY Creations answers a need in our communities to provide age-appropriate, values-based products and online destinations that are safe. The initial product includes the Mia MY Signature Jacket, a chic and modern blazer that doubles as an original work of art. Every Mia MY Jacket comes with exclusive scented write-on/wash-off markers, so girls can create their own one-of-a-kind designs.
The company's mission is to positively influence the lives of girls by creating stylish products that reinforce positive messages like education, creativity, empowerment, friendship, cooperation, and self-confidence. "You could say that Mia MY Creations started 70 years ago," says Mia MY founder, Andrea Ann Kazanjian. "That's when my grandmother Nana created a stylish jacket. The jacket was unusual - and very special - because her girlfriends wrote positive messages all over it! I started thinking about how tough it is to be a Tween girl today. Tweens need positive role models and wholesome but stylish products that can be inspirational during a time when they are experiencing emotional and physical changes in an uncertain world."
This is how the idea of Mia MY was created. Andrea's memory of her Nana's jacket and what it meant to her all those years ago along with the lessons she learned throughout her own tween, teen and young adult years - as a Girl Scout, captain of the swim team, a volunteer, and now as a woman executive in corporate America, led to the company's first product, the Mia MY Signature Jacket. "The jacket provides a cool way for Tween girls to tell the world what's special about them. It's a journal, sketchpad and autograph book and blazer - all in one chic package," says Kazanjian.
The new jacket has scored high marks with its first tween owners: "I like it that my Mia MY jacket is different from anyone else's. It makes me feel special," says 11-year old Maddie D. And, parents are fast becoming fans as well - like Sheila R. who said, "This was the perfect gift for my daughter. She loves that she can create her own "look". She is very proud of herself since she has received so many compliments." The Mia MY Jacket is available in sizes 4-14 and can be purchased for $49.99.
"The more women grow up with confidence in themselves, the world will be a better place, said, Andrea Kazanjian. Today's tweens are the women of tomorrow as evidenced by the interest shown in the two tween girls who have just moved into the White House. We need to provide brands and products that will increase their self esteem and help our girls be the best they can be," says Ms. Kazanjian. She backs this philosophy not only with the launch of Mia MY, but with her company's work with young girls through organizations like Girls Inc.
With a new era of rebuilding and hope on the horizon, the launch of Mia MY Creations answers a need in our communities to provide age-appropriate, values-based products and online destinations that are safe, empowering and wholesome while still being fresh, modern, and "cool." Because "cool" is still that all-important word that resonates most with our Tween girls, whether heralding from "Nana's" generation, or our own.
About Founder Andrea Ann Kazanjian:
Mia MY Founder Andrea Ann Kazanjian has a passion for seeing women succeed. As a successful young executive in corporate America, Kazanjian quickly learned that women have to work twice as hard, and that a woman's support network of grownup girlfriends is one of her most valuable assets. Through her own youthful involvement in Girl Scouts, competitive swimming, and volunteerism, Kazanjian gained the confidence and self-esteem she needed to succeed. And now, with the launch of Mia MY, she's committed to providing today's girls with positive role models, friendship-strengthening activities, and creative, stylish products that can help girls become confident and self-reliant young women.
For more information, please contact Andrea Kazanjian at 407.864.9860 or email at andrea.kazanjian (at) miamy (dot) com. For retailers: Mia MY Creations is looking for select U.S. retailers who share its philosophy and commitment to providing girls with smart, stylish options - products that help them express who they are and all they dream of achieving. Inquiries welcome via: Email: info (at) miamy (dot) com Phone: 407.864.9860
###