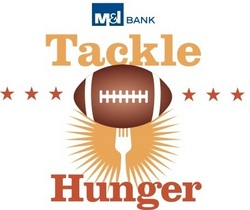 We encourage Kansas City residents and organizations to help us raise 120,000 more meals for Harvesters.
Kansas City, MO (PRWEB) November 26, 2010
M&I Bank and its partners, including Sports Radio 810 WHB, Mix 93.3, Kansas Sampler, Planet Sub, Aldi and Textcaster, raised more than 30,000 meals for Harvesters at the Tackle Hunger Food Drive event last week. The group aims to raise an additional 120,000 meals or $24,000 for Harvesters by the end of November.
"We thank all the Kansas Citians who came out to the food drive last Thursday and donated food and money for Harvesters," said Dave Janus, M&I Bank Kansas City Region president. "Due to local economic conditions, more and more area residents are relying on Harvesters for food assistance, so we remain committed to helping Harvesters end hunger and give sustenance and hope to those in need this holiday season."
According to a recent report issued by the USDA, currently about 42 million people—more than one in eight Americans—participate each month in the Supplemental Nutrition Assistance Program (SNAP, formerly called food stamps). This figure is projected to rise to 43.3 million in 2011.
"We will be accepting food donations at all M&I Bank branches, Kansas Sampler and Planet Sub locations through the end of the month. We encourage Kansas City residents and organizations to help us raise 120,000 more meals for Harvesters," Janus said.
As of Wednesday, Nov. 24, the University of Kansas fans were in the lead in the food drive competition, having donated 14,592 meals. The University of Missouri fans were not far behind with 13,563 meals. Kansas State University fans are currently in last place with 5,952 meals.
Fans can also donate online at http://www.tacklehunger.harvesters.org or can donate $10 on behalf of their favorite team by texting FOOD, KU, KSTATE or MU to 41010. Standard rates and fees apply.
For more information, please visit http://www.tacklehungerkc.com. For more information about Harvesters, please visit http://www.harvesters.org.
About M&I Bank
M&I Bank is an affiliate of Marshall & Ilsley Corporation (NYSE: MI), a diversified financial services corporation headquartered in Milwaukee, Wis., with $51.9 billion in assets. Founded in 1847, M&I Marshall & Ilsley Bank is the largest Wisconsin-based bank, with 192 offices throughout the state. In addition, M&I has 53 locations throughout Arizona; 36 offices along Florida's west coast and in central Florida; 33 offices in Indianapolis and nearby communities; 26 offices in metropolitan Minneapolis/St. Paul, and one in Duluth, Minn.; 17 offices in the greater St. Louis area; 15 offices in Kansas City and nearby communities; and one office in Las Vegas, Nev. M&I also provides trust and investment management, equipment leasing, mortgage banking, asset-based lending, financial planning, investments, and insurance services from offices throughout the country and on the Internet (http://www.mibank.com or http://www.micorp.com). M&I's customer-based approach, internal growth, and strategic acquisitions have made M&I a nationally recognized leader in the financial services industry.
About Harvesters – The Community Food Network
Harvesters is this region's only food bank. Covering a 26-county area of northwestern Missouri and northeastern Kansas, Harvesters provides food and related household products to more than 620 not-for-profit agencies including emergency food pantries, soup kitchens, homeless shelters, children's homes, homes for the mentally disabled and shelters for battered persons. Agencies in Harvesters' network provide food assistance to as many as 66,000 different people each week. Harvesters, which was founded in 1979, is a certified member of Feeding America, a nationwide network of more than 200 food banks, serving all 50 states. For more information, visit http://www.harvesters.org.
# # #