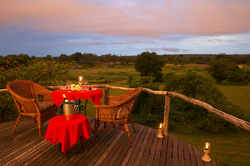 New York, NY (PRWEB) March 11, 2011
Dr. David Livingstone (1813-1873) was an intrepid Scottish explorer who opened up much of Eastern and Southern Africa to Victorian-era Europeans, discovering Zambia's Victoria Falls among many other natural and cultural wonders. Micato Safaris' 11-day Livingstone Wing Safari, named in honour of the renowned voyager, has long been one of Micato's most popular safaris, introducing travellers to the many splendours of East Africa. After a brief hiatus from Micato's brochure offerings in 2010, the itinerary is back by popular demand, with updated accommodations, routes and activities. To celebrate the return of the Livingstone and to get travellers into an adventurous mindset, Micato is offering a Livingstone Explorer's Ensemble of upscale safari gear from Micato's online Safari Shop (http://www.micato.com) valued at nearly $200 to each traveller that books the Livingstone Wing Safari between March 15 and May 31, 2011*. The Livingstone Explorer's Ensemble includes:
A Micato-logo'd Adventurer Sunshirt: Vented for breathability, UPF Rated, and easy to pack, this may well be the best safari shirt ever designed.
Convertible Pants: Designed for adventure, activity and comfortable lounging and made of quick-drying, lightweight Omni-Dry nylon, these breathable pants can be converted from long pants to shorts with a "zip of the wrist".
Amphibian H2O® Binoculars by Bushnell: With their compact size, H2O® 100% waterproof binoculars can't help but travel all over the world. At a mere 13 oz., they pack overwhelming clarity and brightness into a rubber-armored, dry nitrogen-filled, roof prism compact pair of binoculars- perfect for game viewing.
The Livingstone is a delightful journey for travelers with limited time away from home yet who desire an in-depth safari experience. Devoted exclusively to Kenya, in less than two weeks guests experience nearly all of the region's highlights (Nairobi, Amboseli National Park, Laikipia Plateau, Maasai Mara) while enjoying exceptional wildlife throughout. A stay at Laikipia's Loisaba Lodge (a new addition for 2011) provides myriad active diversions beyond game viewing -- from mountain biking to river rafting to quad biking. In addition, guests can sleep under the wide and wondrous African firmament in Loisaba's famed Star Beds.
Rates start at $7630 per person, based on double occupancy. (Rate excludes international airfare.) To book the Livingstone Wing Safari or for more information call 1-800-MICATO-1 or visit http://www.micato.com. All Micato Safaris booked promise a "One for One" commitment: Micato matches every safari sold with a payment of all school fees for an African child in need.
About Micato Safaris
Jane and Felix Pinto founded Micato Safaris in Kenya in 1966, and the company has been providing the most luxurious and personalized African safaris to sophisticated travelers ever since. Winning the coveted Travel+Leisure "World's Best Tour Operator & Safari Outfitter" award for an unprecedented seven years, the 2010 Conde Nast Traveler World Savers' Award, and a 2010 Travel + Leisure Global Vision Award, Micato prides itself on providing exceptional service throughout every stage of the safari experience.

For new bookings between March 15 and May 31, 2011 only. Not valid with any other offer. Livingstone Explorer's Ensemble to be purchased through Micato's online Safari Shop via gift credit code. Code will be provided upon final payment. Travel must be completed by December 31, 2012. Please mention the promotional code "Livingstone 11" to receive Ensemble.
# # #