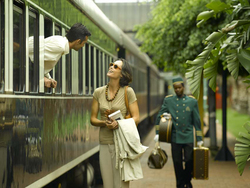 South Pasadena, CA (PRWEB) March 7, 2011
African railway travel has long been the vehicle for explorers, whether it be Cecil Rhodes's vision of a track from the "Cape to Cairo" or Karen Blixen's arrival by locomotive in Kenya to begin her legendary journey. Guests on Micato Safaris' new Romance of Rovos Rail itinerary can create their own nostalgic adventures on an expansive itinerary that traverses the African plains in search of game, carries them across the continent in unrivalled comfort in Rovos Rail's impeccably restored cars, and concludes with a rejuvenating stay in cosmopolitan Cape Town. The opportunity to follow in the footsteps of famed explorers, paired with Micato's commitment to unparalleled personalized service, ensures travelers an expedition unlike any other.
The 22-day journey, departing Tuesday, October 4, 2011* includes:
Oct. 4 Depart the U.S.
Oct. 5-6 Fairmont The Norfolk Hotel, Nairobi
Guests' adventure begins at the historic Norfolk Hotel, the safari launching point favored by luminaries such as Teddy Roosevelt and Ernest Hemingway. During their stay in Kenya's capital city, travelers will visit the Sheldrick Elephant Orphanage, where guests can "adopt" an elephant orphan, hand-feed Rothschild's giraffes at the Giraffe Centre, and tour Out of Africa author Karen Blixen's former home.
Oct. 7-9 Mara Plains Camp, Maasai Mara
Fly to Mara Plains Camp in the famed Maasai Mara, grasslands traditionally under the guardianship of the local Maasai tribes. With its secluded location in the Olare Orok Conservancy, and some of the world's most spectacular game viewing, a stay at Mara Plains feels reminiscent of the intrepid safaris of lore. An early morning hot air balloon safari, touching down to a champagne bush breakfast, is utter bliss.
Oct. 10-14 Rovos Rail
This morning's private charter flight wings guests to Dar es Salaam, Tanzania in time to board the incomparably luxurious Rovos Rail. Each well-appointed car has a storied past – some even carried royalty in their plush quarters. Guests may even spot game while sipping tea in the Observation Car as the train winds through Tanzania's expansive Selous Game Reserve, an exciting start to the journey, and will enjoy the picturesque countryside as they continue through Tanzania and Zambia.
Oct. 15-17 Victoria Falls Hotel, Victoria Falls; Rovos Rail
Alight in Victoria Falls for a one-night respite at the grand dame Victoria Falls Hotel. Optional activities abound, from golf to river rafting, and guests have a full day at leisure to explore. Board the train in time for dinner in the stylish dining car, and then continue through Zimbabwe.
Oct. 18-19 Tau Game Lodge, Madikwe Game Reserve
Arrive in Gaborone, Botswana and then drive to Madikwe Game Reserve in South Africa, once traversed by Dr. David Livingstone. The next two days bring exciting game-viewing opportunities: Madikwe is home not only to the classic big game of the savannah but also several desert-adapted species found in the Kalahari.
Oct. 20-22 Rovos Rail
Rejoin the train for the final phase of the journey to Cape Town. En route, guests have the opportunity to explore Pretoria, one of South Africa's three capital cities, and the diamond mine museum in Kimberly.
Oct. 23-25 Cape Grace Hotel, Cape Town
Disembark the train in Cape Town, a picturesque city nestled between the mountains and the seashore. After an evening at leisure, guests enjoy the services of a private car and driver for two days of exploring Cape Town and its surrounds.
Oct. 26 Depart
After a relaxing day and a reluctant farewell to Africa, guests will be escorted to the airport for their international departure flight.
Micato Safaris' Romance of Rovos Rail Safari is priced at $29,875 per person, based on double occupancy. (Rate excludes international airfare.) For more information, visit http://www.micato.com or call 1-800-MICATO-1.
*Alternate departure dates available throughout 2011; call for dates and pricing.
About Micato Safaris
Jane and Felix Pinto founded Micato Safaris in Kenya in 1966, and the company has been providing the most luxurious and personalized African safaris to sophisticated travelers ever since. Winning the coveted Travel + Leisure "World's Best Tour Operator & Safari Outfitter" award for an unprecedented seven years, the Conde Nast Traveler 2010 World Savers Award and a Travel + Leisure 2010 Global Vision Award, Micato prides itself on providing exceptional service throughout every stage of the tour experience.
# # #