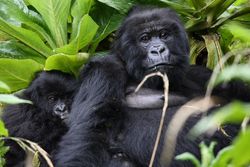 New York, NY (PRWEB) February 8, 2011
The safari of yore was a vigorous adventure that entailed days of hiking, setting up tents, preparing one's meals over a campfire, and keeping an ever-watchful eye for predators. While today a safari is just as likely to include a massage treatment by the plunge pool, a seven-course gourmet bush dinner, or a quick jaunt to a remote lake by private plane, there is no less adventure to be had. Indeed, a whole breed of Micato travelers rarely sits still in the bush; they jog with Maasai, mountain bike through the plains, trot horses amidst giraffes, trek camels at dawn, buzz through fields on ATVs, sleep out under the stars, track with bloodhounds, fish pristine lakes, and more.
Additions to Micato Safaris' 2011 brochure reflect travelers' requests for highly customized, exciting, off-the-beaten path active adventures and enriching experiences to share with friends and family while providing the opportunity to have a positive impact on destinations visited. To this end, Micato Safaris has introduced:
Tracking Majestic Mountain Gorillas: Micato's exciting Rwanda Gorilla Tracking adventure is one of the most captivating and unforgettable wildlife experiences imaginable. Following a night in Kigali, with time to explore the bustling city's museums and craft center, guests will drive to the Parc National des Volcans and settle into a luxurious lodge in the foothills of the Virunga volcanoes. They will spend the next two days tracking two families of mountain gorillas, hoping for the opportunity to watch their fascinating daily rituals. The adventure also includes a visit with a local group of conservationists. This 5-day extension can be linked with any of Micato's scheduled programs departing throughout the year or incorporated into a Bespoke itinerary with flexible departure dates.
New Travel + Leisure World's Best Safari: Micato Safaris enjoys a unique honor — being the first — and only — tour company to win the coveted Travel + Leisure "World's Best Tour Operator & Safari Outfitter" award for seven years. Micato's "World's Best Safari" is a custom-crafted, drop-dead fabulous itinerary that changes yearly to include winning properties and cities from the World's Best list. This year's program starts at the Cape Grace Hotel, ranked the Number 2 City Hotel in Africa/Middle East. After two days of touring the Cape Peninsula, visiting penguins on Boulder Beach and sipping exquisite wines in the Cape Winelands at Delaire Estate, guests will fly to Londolozi, the Number 5 Lodge and Resort in Africa/Middle East.
Glorious days of fruitful game viewing and sublime comfort ensue. From here, it's off to Singita, the Number 1 Hotel in the World, (not just Africa!) for two days of game viewing and more leisurely pursuits. Day 9 brings guests to Johannesburg's Westcliff Hotel, the Number 7 City Hotel in Africa/Middle East. The grand finale is Victoria Falls with a stay at the Number 10 Hotel in Africa/Middle East: The Royal Livingstone Hotel. Guests will tour Victoria Falls and its network of rainforest trails, cruise the Zambezi River, or simply relax on the veranda enjoying breathtaking sunsets.
The Return of the Livingstone Safari: After a year's hiatus, Micato's 11-day Livingstone Wing Safari is back by popular demand. The Livingstone is a delightful journey for travelers with limited time away from home yet who desire an in-depth safari experience. Devoted exclusively to Kenya, in less than two weeks guests experience nearly all of the region's highlights (Nairobi, Amboseli National Park, Laikipia Plateau, Maasai Mara) while enjoying exceptional wildlife throughout. A stay at Laikipia's Loisaba Lodge (a new addition for 2011) provides myriad active diversions beyond game viewing -- from mountain biking to river rafting to quad biking. In addition, guests can sleep under the wide and wondrous African firmament in Loisaba's famed Star Beds.
Micato Safaris' Newly-Enhanced Bespoke Collection: Hand-selected by Micato Safaris, this collection of exquisite bush homes, stunning eco-lodges, exclusive ranches and seamless transportation options provides an unparalleled experience for those who prefer to custom-design their adventure.
New this year to Micato's East African Bespoke Collection of prestigious properties is the Mara Plains Camp. Located in a spectacularly predator-rich area of the Mara, the camp is an intimate escape with seven lusciously-appointed tents in a vast private conservancy.
Two South African properties, Birkenhead House in Hermanus, and One & Only Resort, Cape Town join Micato's elite Southern Africa Bespoke Collection. Situated on a bluff overlooking picturesque Walker Bay -- a wonderland for whale watchers -- Birkenhead House's location is stunning and offers a variety of activities including golf, sea kayaking, scuba diving and more. One & Only Resort is one of the most luxurious addresses on the exclusive Victoria & Alfred Waterfront. Here epicures will savor city life and the legendary cuisine of Nobuyuki "Nobu" Matsuhisa and select from more than 6,000 vintages at the resort's Wine Loft.
In Namibia, two splendid properties, Sossusvlei Desert Lodge and Okahirongo Elephant Camp, join the Collection. Sossusvlei Desert Lodge is a remote hostelry set amidst an otherworldly wonder: the Sossusvlei Dunes. The spacious stone-and-glass villas here -- enfolded by ancient mountains -- feature elegant interiors and spectacular views through massive windows. Guests can explore this rugged landscape by foot or on quad bikes, or relax on a private veranda looking across at the sun-kissed, ethereal dunes. At Okahirongo Elephant Camp, each of seven chalets is an example of detail-driven, eco-friendly design. Guests can visit a local Himba tribe, explore the arid wilds on foot or by vehicle, and learn about the camp's Desert Lion Project, which is committed to saving this unique indigenous species.
Two exquisite Botswana properties, Zarafa Camp and Xaranna, have also been added to the Southern Africa Bespoke Collection. Set in the shade of a Red Ivory forest in the Selinda Reserve, Zarafa Camp entwines exquisite privacy with princely comforts. Each of the camp's four 1,000-square foot "marquis style" tents provide a private plunge pool, lounge and breathtaking views of Zibadianja Lagoon. Xaranna is an island camp inspired by the Okavango Delta's ever-present water lily. Accessible only by boat, Xaranna's nine timber-and-canvas tents boast four-poster beds, private plunge pools, and al fresco showers. Surrounded by papyrus, reed beds and a 62,000-acre wildlife concession, Xaranna is a serene escape in a remarkable ecosystem.
Last But Definitely Not Least: Micato Renews Its One For One Commitment: Every guest's safari enables Micato to do something wonderful: for every safari sold, Micato sends a child to school—a child who would otherwise stay home due to extreme poverty. An unimaginable number of African children do not attend school because their families are too poor to pay even the most nominal fees related to school attendance. Micato's way of helping? A "One for One" commitment: Micato matches every safari sold with a payment of all school fees for an African child in need.
What better reason could one have for going on safari in 2011? To book a safari or for more information call 1-800-MICATO-1 or visit http://www.micato.com. For more info about Micato's One for One programme visit http://www.micato.com/blog/2011/01/14/the-micato-one-for-one-commitment/
About Micato Safaris
Jane and Felix Pinto founded Micato Safaris in Kenya in 1966, and the company has been providing the most luxurious and personalized African safaris to sophisticated travelers ever since. Winning the coveted Travel+Leisure "World's Best Tour Operator & Safari Outfitter" award for an unprecedented seven years, Micato prides itself on providing exceptional service throughout every stage of the safari experience.
For the past 25 years Micato's nonprofit arm, AmericaShare, has been actively working in Kenya to support the orphaned and vulnerable children and adults affected by the HIV/AIDS pandemic. Funded 100% by Micato Safaris, AmericaShare channels the donations of its safari guests, corporate partners and industry friends directly to one of its projects in Mukuru, a notorious slum outside of Nairobi. AmericaShare's mission is to provide education and hope to the women and children of Mukuru, as well as resources to facilitate sustainable change within the community.
###