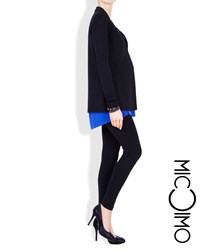 This is a life-changing, joyful time for you—we design chic clothing that will reflect your radiance. –Founder, Olga Repina
New York, NY (PRWEB) January 06, 2014
Comfort. Confidence. Radiance.
MICCIMO is a collection of pregnancy staples with a style and versatility that honors the nine-month journey. From evening dresses to sportswear, MICCIMO wardrobe-building designs are carefully crafted to prioritize comfort and flatter the body throughout every phase of expectancy—and beyond.
"This is a life-changing, joyful time for you—we design chic clothing that will reflect your radiance."
-Founder, Olga Repina
Core Collection:

Luxe. Modern. Simple.
The perfect weight & shapes to be worn now & post-pregnancy.
Denim, silk evening dresses, cotton daywear, & more—each piece is created with thoughtful tailoring, ruching, & draping for an effortless yet polished finish.
Elevated Essentials 2014:

Better than basic t-shirts, tanks, tunics, jeans & leggings in comforting, curve-loving fits. Wear now & post-pregnancy.
A feel-to-believe softness; cotton, modal, and eco-conscious tencel blends.
"Our greatest hope is that you enjoy wearing our collection as much as we enjoy designing and creating it for you."
-Founder, Olga Repina
Where to Shop: http://miccimo.com
FOR MORE INFORMATION, PRODUCT IMAGES OR SAMPLES:
Email: info(at)miccimo(dot)com
Phone: +90(532)4115526
FOR PRESS INQUIRIES:
Email: press(at)miccimo(dot)com