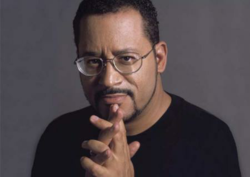 Dyson is credited with helping establish the field of Black American cultural studies.
Atlanta, GA (PRWEB) June 06, 2013
Dr. Michael Eric Dyson, the distinguished public intellectual, whose leading scholarship has profoundly influenced contemporary ideology, will deliver the Father's Day message at Hillside International Truth Center, 9:30 a.m., June 16, 2013.
Dyson is the college professor, commentator and "hip-hop intellectual" who has written 17 books on race, politics, and the African-American experience. His background is unusual for a scholar: a Detroit gang member and unwed father in his late teens, he turned himself around and became an ordained Baptist minister at age 21. He earned a bachelor's degree from Carson-Newman College in 1982, then went on to achieve a master's (1991) and a PhD (1993) from Princeton.
Dyson's challenged path in life positioned him to bridge a generational gap; connecting a civil rights identity to hip-hop culture. Dyson challenges Americans to examine the impact of today's issues on the black community - especially the children. He focuses attention on legislative proposals on the agenda for African Americans right now and what people can do in their neighborhoods, faith institutions, schools and across the kitchen table to ensure a better world where everyone can live out the full measure of their dreams.
Dyson is a Professor of Sociology at Georgetown University and the author of 17 books. His "Reflecting Black: African American Cultural Criticism" is credited with helping establish the field of Black American cultural studies. The New York Times bestseller, "Is Bill Cosby Right? Or Has the Black Middle Class Lost Its Mind?" helped to jumpstart a national conversation on being poor and black in America. In "Come Hell or High Water: Hurricane Katrina and the Color of Disaster" - the first major literary work on Katrina - Dyson probed the racial and class fallout caused by the storm. The Washington Post hailed his best-selling "April 4, 1968: Martin Luther King, Jr.'s Death and How it Changed America" as "an excellent sociological primer on institutionalized racism in America."
Dyson is a political analyst and guest host on MSNBC. He has appeared on nearly every mahor media outlet from the "O'Reilly Factor" to "Real Time with Bill Maher." He is a contributing editor for Time magazine and hosted a syndicated NPR news and talk program.
Hillside International Truth Center, Inc., where Rev. Dr. Barbara L. King is the Founder Minister, is a healing ministry for the whole person: Spirit, Mind, and Body. Hillside is located at 2450 Cascade Rd. SW, Atlanta, GA 30311. Sunday services begin promptly at 9:30 a.m.