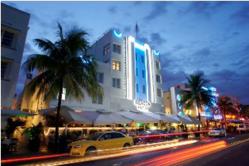 This show is a great opportunity to visit Miami and its beaches, says Elvis Taylor, General Manager of the Beacon Hotel
Miami Beach, FL (PRWEB) February 21, 2012
Good news for all Michael Jackson Fans and interested guests of the Beacon South Beach Hotel, Michael Jackson THE IMMORTAL World Tour is now touring in Miami! From March 2 to March 4, 2012, the tour will be performing live in downtown Miami. Now guests of the Beacon South Beach Hotel can enjoy their weekend beach vacation by adding an entry to the grand Michael Jackson event!
King Of Pop Leaves The Legacy Behind…
Aimed at lifelong fans as well as those experiencing Michael's creative genius for the first time, Michael Jackson THE IMMORTAL World tour is intended to capture the essence, soul and inspiration of the King of Pop, celebrating a legacy that continues to transcend generations. A riveting fusion of visuals, dance, music and fantasy that immerses audiences in Michael's creative world and literally turns his signature moves upside down, the show will unfold Michael Jackson's artistry before the eyes of the audience.
THE IMMORTAL World Tour will take place in a fantastical realm where visitors can discover Michael's inspirational Giving Tree - the wellspring of his creativity. The secrets of Michael's inner world will be unlocked - his love of music and dance, fairy tale and magic, and the fragile beauty of nature.
The underpinnings of THE IMMORTAL World Tour are Michael Jackson's powerful, inspirational music and lyrics - the driving force behind the show—brought to life with extraordinary power and breathless intensity. Through unforgettable performances Michael Jackson THE IMMORTAL World Tour underscores Michael's global messages of love, peace and unity.
It's time visitors book their tickets for this gala event and grab their favorite seats while they last. For bookings and more information about the event, click here.
What's more?
With a ticket to Michael Jackson The IMMORTAL World Tour, guests of the Beacon South Beach Hotel have an opportunity to Discover how Michael Jackson inspired the world with his tours, share their memories and even meet the creators of the show. Visitors can also join the conversation and share news, videos and images of the show.
So, hurry, book tickets today! For those looking for accommodations in Miami, FL, do not forget to book a stay at The Beacon South Beach Hotel and enjoy special offers today.
About The Beacon South Beach Hotel
The Beacon South Beach Hotel is a luxury hotel with cozy bedrooms, awe inspiring views, an exotic restaurant and high-tech business amenities.
Flaunting a fusion of cosmopolitan and Art Deco influences combined with beach front elegance and top-notch amenities for the premier beach luxury hotel experience, the Beacon South Beach Hotel is a place where guests can enjoy exceptional hospitality and lodging accommodations in a convivial and comfortable setting.
For more information, please visit: http://www.beaconsouthbeach.com
###