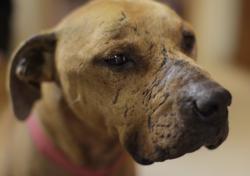 Dogington Post suggests that everyone donate $25, the cost of Vick's book, to one of the rescue groups that took in dogs from Bad Newz Kennels.
Boca Raton, FL (PRWEB) July 23, 2012
Five years ago on July 17, the American dog loving public watched as NFL quarterback Michael Vick was indicted by the federal government in connection with a dogfighting operation headquartered on 15-acres of property he owned in Virginia known as "Bad Newz Kennels".
Highly publicized allegations included executions of dogs by hanging, drowning, electrocution and shooting. As reported by Washington Post, allegedly Vick, himself, was directly involved in the 6-year operation, attending fights and paying off bets when his dogs lost. He was also said to have participated in the killing of dogs that didn't perform well.
3 years ago in July of 2009, Vick was released from federal custody and became a free man after serving 23 months of his dogfighting conviction. In August the same year, he returned to the NFL with the Philadelphia Eagles. His return to the spotlight was met with mixed reviews.
Now, Michael Vick has launched a new clothing line called V7 that includes technical athletic clothing and T-shirts. Some of the proceeds of his clothing sales are donated to Boys and Girls Club of Philadelphia. It is the opinion of Dogington Post that Mr. Vick is attempting to capitalize on his criminal past.
Vick has written his autobiography entitled "Michael Vick: Finally Free" that will be released in September. In light of ongoing pre-sales of Vick's new book, Dogington Post urges its readers to boycott both the book and Vick's clothing line. The online dog news source suggests that everyone instead donate $25 – the price of the book – to one of the rescue groups that rehabilitated the 48 dogs that survived after the raid on Vick's Bad Newz Kennels.
"Many apologists argue that Vick has done his time and should be supported. It's true Michael Vick served time for crimes associated with dogfighting," said Brooke Arnold, contributor for Dogington Post, "but he was never charged with nor has he served a minute of time for animal cruelty because of his plea bargain. Many of us are still haunted by the details of the abuse at Mr. Vick's hands and refuse to support him, regardless of his ability to throw a football."
Dogington Post reaches over 1.6 million dog lovers each week. The dog news site features articles about Vick's involvement with dogfighting; suggests that its readers boycott his products; and provides information on rescue groups working with those dogs that survived Bad Newz Kennels, recommending that readers donate to them instead of supporting any of Michael Vick's endeavors.
For more information about Dogington Post and their efforts to boycott Michael Vick, visit http://dogingtonpost.com and check them out on YouTube.
About Dogington Post:
DogingtonPost.com was created for the love of dogs. It promises a forum of informative articles, newsworthy dog stories, health and breed information, and heartwarming videos. The site addresses current issues affecting dogs and their human parents – from serious health concerns to lifestyle issues on feeding, grooming and the overall well-being and mental health of dogs. It is the Internet newspaper, all about dogs.