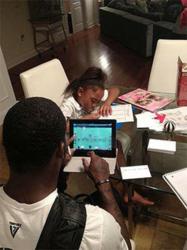 The only position we can take in an animal abuse case is that the abuser never be allowed have another animal in his care - ever again.
Boca Raton, FL (PRWEB) October 09, 2012
Last July, just three years after his release from federal custody for his involvement with illegal dog fighting, Michael Vick told CNN's Piers Morgan about his plans to adopt another dog, saying, "It certainly wouldn't be a pit bull."
Animal activists and dog lovers were outraged at Vick's announcement. The Dogington Post called for a boycott of the NFL quarterback's new autobiography and his clothing line and asked readers instead to donate the cost of Vick's book to one of the shelters that rescued the 48 pit bulls that survived Vick's Bad Newz Kennels.
Until July of this year, the terms of Vick's parole had prevented him from owning a dog. Now, Vick's mysterious disappearing Twitter posts and sightings at PetSmart have dog lovers again concerned that he has followed through with his plan and adopted a dog after all.
CrossingBroad.com captured a Tweet from Vick last week – a photo of him with his daughter with the caption, "we workin." The photo also included an open box of dog treats sitting on the table.
The post was later deleted, and a new photo posted with the dog treats cropped out.
In response to the news that Vick may, in fact, have added a dog to his family, the popular dog news site launched a campaign for stricter laws regarding the dog ownership of convicted animal abusers.
"Vick has shown no remorse for what he did to those dogs he fought, tortured and killed. It is documented that he tortured his own family dogs as well," said Brandy Arnold, Content Editor for Dogington Post. "We don't care how much time this man served in jail. The only position we can take in an animal abuse case is that the abuser never be allowed have another animal in his care - ever again."
Dogington Post reaches over 1.6 million dog lovers each week. The site presented the information about Vick, his photo Tweet, and his alleged PetSmart sighting to its readers who were overwhelmingly in agreement that the football player and convicted felon should not be allowed to own a dog.
The popular dog news site will follow the news of Michael Vick closely to verify whether or not he has added a dog to his family. Dogington Post will also continue to provide readers with information and resources to promote awareness of issues affecting dogs.
Dogington Post reminds its readers to donate to the rescue groups that continue to work with the dogs that survived Vick's Bad Newz Kennels dogfighting operation rather than supporting any of his endeavors.
For more information about Dogington Post and their efforts to boycott Michael Vick and promote stricter laws against convicted animal abusers, visit http://dogingtonpost.com and check them out on YouTube.
About Dogington Post:
DogingtonPost.com was created for the love of dogs. It promises a forum of informative articles, newsworthy dog stories, health and breed information, and heartwarming videos. The site addresses current issues affecting dogs and their human parents – from serious health concerns to lifestyle issues on feeding, grooming and the overall well-being and mental health of dogs. It is the Internet newspaper, all about dogs.