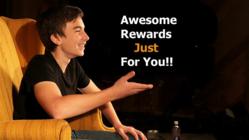 "I'm asking anyone who is able to help, to please be a part of my dream. Please Facebook it, Tweet it, Share it, YouTube it and back it if you can."
Costa Mesa, CA (PRWEB) February 13, 2013
The music industry's fastest rising star, 13-year-old Michael Magers, is on the fast track to making it big with the production of his first professional music video and debut album. Having won International music contest Teenage-Rockstar.net's Artist of the Year with over 2.4 million votes, Michael was given two record deals and traveled to Europe to attend a prestigious music camp and perform live at a huge festival. Thanking his fans and supporters, Michael is now launching a Kickstarter campaign and inviting everyone to help raise the funds necessary to continue to make Michael's dreams come true.
"Music and video production, travel, and mastering and packaging costs, have added up quickly. In order for the new album and music video to be completed, I am asking my fans, friends and loyal supporters for help," says Michael.
Beginning February 12, Michael's kickstarter.com campaign will be live and accessible for everyone who believes in Michael's dream to back him. Through special tiered reward levels, contributors are asked to donate what they can in an effort to reach Michael's overall goal amount. Once the target amount or higher has been reached, Michael will use the money to pay for the production costs of his new music video and album.
Featured on Michael's Kickstarter.com project page is a heartwarming, personal video featuring Michael sharing his feelings and how close he is to achieving his dream. Fans of Michael Magers will also hear a never-before-heard, sneak peak at his upcoming single in the midst of being produced.
"I'm asking anyone who is able to help, to please be a part of my dream. Please Facebook it, Tweet it, Share it, YouTube it and back it if you can. Every dollar counts, and your generous pledge will allow me to finish my production and launch my first album. Thank you in advance for sharing it with your friends," says Michael.
Michael has posted over 20 videos on YouTube since, February 2011. He currently has over 40,000 subscribers and 500,000 friends/contacts.. He is a strong believer in making the world a better place to live and making friends worldwide.
To contribute to Michael's dream please visit http://kck.st/WiXp1O the latest information, stay connected with Michael on Facebook at https://www.facebook.com/pages/Michael-Magers/183718898330675.