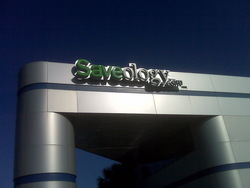 Michael's background and leadership will further enhance our ability to provide precise customer acquisition solutions to households in the planning stages of a move
Fort Lauderdale, FL. (Vocus) March 19, 2009
Saveology.com™, a consumer comparison-shopping portal focused on lowering the cost of living for households by providing valuable cost savings on known brands and services, announces the addition of Michael Anstett, Director of Moving Services, to the Saveology.com team. Mr. Anstett has been recruited to help create new solutions for the struggling moving industry as part of the Saveology.com platform.
Prior to joining Saveology.com, Mr. Anstett had many years of success working within the top ranks of eBay Inc. (NASDAQ: EBAY) Most recently, he helped in the creation of lead based, marketing programs via eBay's GigaMoves property while overseeing ancillary revenue opportunities for eBay's Rent.com subsidiary. Earlier in his career, Mr. Anstett spent five years at Monster Worldwide (NYSE: MWW), where his final position was Senior Manager. At Monster, he was a three time winner of the Monster.com President's Award, given for outstanding achievement within the organization, for his work in Sales and Business Development.
"Michael's background and leadership will further enhance our ability to provide precise customer acquisition solutions to households in the planning stages of a move", said Michael Aronowitz, CMO at Saveology.com, "while more and more consumers are becoming cost conscious, it is rewarding to offer solutions while providing consumers with the opportunity to lower their costs for home services in a non bias, easy-to-use, online comparison format."
Mr. Anstett is a talented addition, and brings expertise within the online space, having held multiple roles within both start-up and high profile organizations since 1997. While his experience in Sales and Business Development has led him to success throughout his career, he is widely respected throughout the moving industry.
Saveology.com has offices located in South Plainfield and Edison, N.J., with the headquarters location in Fort Lauderdale, FL.
About Saveology.com™ Saveology.com is the comparison-shopping portal where smart shoppers can lower their cost of living and save time while getting the best values for their essential services to uncover the best offers. Saveology.com compares services and prices, allows seamless purchases, and schedules installation for a broad range of leading nationally-recognized brands. Consumers may shop for cable, satellite television, broadband, Internet, telecommunications, home warranties, home security, moving services, credit cards and insurance products. Visit http://www.saveology.com to learn more.
###