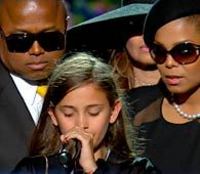 There are serious concerns regarding allegations that Michael's father Joe, who would be living in the home with the Jackson children, was abusive to Michael and his brothers when they were children
Winter Park, FL (PRWEB) July 9, 2009
The world said goodbye to Michael Jackson today. His sudden death left behind a legacy of fans and music. His death also left behind three minor children and an inevitable custody battle that will likely turn into one of the most complex custody disputes this country has ever seen. Jackson's two eldest children, Prince Michael, 12, and Paris Michael Katherine, 11 were both born to his ex-wife Deborah Rowe, while the third, Prince Michael II, 7, was born to an unidentified surrogate mother.
Prior to Jackson's death, the children were living under the full custody of their father, and since his death, they have been staying with their grandparents, Katherine and Joseph Jackson, at the couple's Encino, California, estate. In the wake of his death, Jackson's family appeared in court and successfully attained temporary custody of the three children. Those close to the family feel Jackson's mother, Katherine, is best suited to care for the three children. Jackson's will, which was filed in court last Wednesday afternoon, requests that his mother, Katherine, be made the guardian of all three of his children. The will also states that if Katherine died before him or couldn't serve as guardian, he nominated Diana Ross.
Attorney Jeffrey Feulner, founder of the Men's Divorce Law Firm, feels that despite Jackson's wishes to have his mother named legal guardian, the person who has the strongest legal claim to Jackson's two oldest children is his ex-wife Rowe. Feulner holds that Rowe never gave up her parental rights, but rather "she merely surrendered her custodial rights," and now that Jackson has passed, Feulner claims "Rowe is next in line to raise Michael Jackson's kids."
After Rowe's divorce from Jackson in 1999, she surrendered all custody rights to the children. In 2003, however, the court had her rights restored when Jackson was on trial for child molestation. In 2006, Rowe and Jackson once again worked out a deal that would award Jackson full custodial rights. Despite the prior custody agreements, Attorney Feulner feels that if Rowe challenges Katherine Jackson's petition for permanent custody, she has a good case. "There are serious concerns regarding allegations that Michael's father Joe, who would be living in the home with the Jackson children, was abusive to Michael and his brothers when they were children," Feulner says. Feulner also points out, however, that a Judge will ultimately have to determine what is in the best interests of the children, and cautions that despite any monetary agreements that may have been made, "you can't buy and sell kids."
As for the youngest child, who fans of the King of Pop know as "Blanket," Jackson's wishes will be more influential since the birth mother is currently unknown. Still, however, if the birth mother were revealed, she too would likely cause a challenge for Katherine's petition. Feulner also points out that a Judge isn't going to be inclined to separate the three children who until now have been raised under the same roof as their siblings.
The dispute surrounding custody of Jackson's youngest child may also shed light on legal issues in custody disputes involving surrogates. Attorney Feulner encourages those seeking surrogates to use donor eggs rather than having the surrogate's eggs fertilized with the father's sperm. In traditional surrogacy, the surrogate is impregnated with her own biological child, but the child is conceived with the intention of relinquishing the child to be raised by others, or the father. In gestational surrogacy, the surrogate becomes pregnant via embryo transfer with a child of which she is not the biological mother. Attorney Feulner points out that this type of surrogacy affords the parent more legal protection as there is no genetic relationship between surrogate parent and child. If Jackson had utilized gestational surrogacy, which is still unclear, Feulner feels that the wishes outlined in Jackson's will would undoubtedly be carried out.
Katherine Jackson is due back in Court in August when a judge will hear her Petition for Permanent Custody. It is unlikely, however, that the court date will mark the conclusion of this custody battle. Those close to the Jackson family wonder how a Judge could award custody to anyone other than Katherine, but according to Attorney Feulner and many other family law experts, "a Judge is bound by the law and is not going to infringe upon the rights of the biological parents lightly."
###