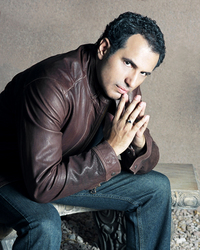 I feel very fortunate to live in this country
Las Vegas, NV (PRWEB) May 20, 2008
Astrum Records recording artist Michael Paige has been invited by the U.S. Naval Station of Guantanamo Bay, Cuba to perform at its Memorial Day Beach and Music Festival on May 26. In support of the troops, Michael will be performing a handful of original material, from 'Da Le', his first Latin single supported by Clear Channel Online Music & Radio, to 'Dance', one of his most popular songs with a Latin twist.
On this coming Memorial Day, Michael will be providing a complimentary free music download offer of the "Dance" remix track to the troops and their families. "I feel very fortunate to live in this country," states Michael. "Its ironic going to perform in Cuba, a country that my mother and father and wife had to leave," he adds.
The performance and interaction with troops will be filmed for performance footage, as well as Michael's documentary, The Indie Decision. The trailer for the documentary is available now to view at TheIndieDecision.com, which gives a sense of true music independence.
Michael is looking forward to share his story with media relations through the Internet, print media, radio and TV. Feel free to reach out to Josh East at MusiK1 to schedule interviews, features or reviews by email at media @ astrumrecords.com.
PR Note: To gain access to art work, song snippets and a YouTube video stream, please visit BillboardPublicityWire.com and conduct a search for Michael Paige. You may also visit Michael's official website at MichaelPaigeMusic.com for rich media content.
About Michael Paige
Born in Bronx, New York to an Austrian father and Cuban mother, Michael grew up in a multi-cultural setting. As a child, he studied piano and played at the Carnegie Hall for the Children's Concert Series, knowing at the age of 14 that music would be a big part of his life. After receiving his Bachelors in Piano at the prestigious Mannes College of Music, Michael now resides in Las Vegas where he's currently completing his masters at UNLV, and continues to perform at such prominent hotels as in The Mirage, The Bellagio, Treasure Island, The Luxor and Rio.
About The Indie Decision
The Indie Decision documentary concentrates on the reality of how music recording artist Michael Paige has concluded that signing with a major record label is no longer an attractive path to follow. Instead, the role of independence prevails by forming his own record label and publishing arm, resulting in a strong, yet gutsy move during the most crucial time in his career. As an emerging artist, Michael Paige explores the challenges of executing traditional record campaign techniques within the Digital Age, while the team behind Michael's record campaign reveals strategic methods on how reforming industry standards are in the hands of music independence.
About Billboard Publicity Wire:
Billboard Publicity Wire is the major and indie entertainment press release service that combines the direct-to-media distribution approach of traditional PR wire services with the latest direct-to-consumer social media features and search engine optimized (SEO) internet distribution techniques. It's the most effective service available for generating media coverage and online visibility for your artists, music, films, games, events and web sites.
###