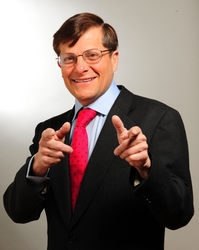 This conference will be a great opportunity for scientists, physicians and patients to learn from each other and discuss how to collaborate to achieve healthier lifestyles
Cambridge, MA (Vocus) September 4, 2009
Award-winning author, media personality and Chief Wellness Officer at the Cleveland Clinic, Michael Roizen, M.D. will present to researchers, physicians and patients at the first ever Aging & Healthy Lifespan Conference on Sept. 23 at Harvard Medical School. Dr. Roizen is one of more than 20 speakers on the agenda for the one-day conference, who will discuss the latest advances in aging science, demographic trends for our aging populations and practical steps for patients who wish to achieve a longer and healthier lifespan.
As one of America's chief proponents for exercise and healthy eating, Dr. Roizen is most well-known as the creator of the RealAge test and author of bestselling books in the RealAge and YOU series and co-author of a number of books and a syndicated daily newspaper column with Dr. Mehmet Oz. In addition to serving as the Medical Director for Dr. Oz's new daytime program premiering on Sept. 14, Dr. Roizen has made frequent appearances on the Oprah Winfrey Show, Good Morning America, the Today Show, 20/20 and many more.
At the Aging & Healthy Lifespan conference, Dr. Roizen will serve on a panel to discuss how aging research affects actions and interactions that shape public awareness and speak separately on his latest research into helping patients stay healthy, slow aging and reverse disease. Guests of the conference, which is open to the public, will also be able to purchase signed copies of three of his books - YOU Being Beautiful: The Owner's Manual to Inner and Outer Beauty, YOU On a Diet: The Owner's Manual for Waist Management and YOU Staying Young: The Owner's Manual for Extending Your Warranty.
As Chief Wellness Officer at the Cleveland Clinic Wellness Institute, Dr. Roizen works with patients struggling with tobacco, heart, diabetic or arthritic problems and coaches them to make the necessary lifestyle changes to live, feel and look years younger. In his 63 calendar years of age (RealAge of 43.9), he has given more than 1,400 lectures, published more than 165 peer-reviewed scientific papers, 100 textbook chapters, and 30 editorials and received 13 U.S. patents.
"This conference will be a great opportunity for scientists, physicians and patients to learn from each other and discuss how to collaborate to achieve healthier lifestyles," said Dr. Roizen. "I'm looking forward to being part of that discussion as we continue to research new ways for patients to extend their warranties."
In addition to Dr. Roizen, the Aging & Healthy Lifespan will feature presentations by speakers known as mavericks and pioneers in the field of aging research, including:

Aubrey de Grey, Ph.D., Chief Science Officer of the SENS Foundation, who developed an approach to identify all components that cause human aging and remedy each one to expedite a cure for aging;
David Ewing Duncan, award-winning journalist and best-selling author of seven books, including The Experimental Man, a Chief Correspondent for public radio's "Biotech Nation," a longtime commentator for NPR's "Morning Edition," and the Director of the Center for Life Science Policy and a Visiting Researcher at the Graduate School of Journalism at the University of California, Berkley;
Leonard Guarente, Ph.D., Novartis Professor of Biology at the Massachusetts Institute of Technology and researcher credited with the discovery of the biochemical activities of sirtuins that have the potential to combat diseases of aging;
Cynthia Kenyon, Ph.D., Director of Hillblom Center for the Biology of Aging, University of California, San Francisco, who first discovered that genetic dissection influences aging;
David Sinclair, Ph.D., Sirtris Co-Founder, Scientific Advisory Board Co-Chair and Associate Professor of Pathology at Harvard Medical School and key contributor to the scientific understanding of aging;
Christoph Westphal, M.D., Ph.D., Chief Executive Officer, Sirtris, a GSK Company and Senior Vice President, Centre of Excellence for External Drug Discovery, GSK. Sirtris is focused on discovering and developing drugs to treat diseases of aging.
The Aging & Healthy Lifespan Conference is sponsored by Pure Communications, the American Federation for Aging Research and Merriman Curhan Ford. Registration is now open to the public and guests can learn more about the conference or register online by visiting, http://www.healthylifespanconference.com .
###