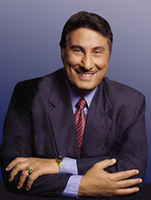 I believe this could be the start of a great revival in the region
Atlanta, GA (PRWEB) December 8, 2009
Michael Youssef, Founder and President of Leading The Way, held a three-day evangelistic outreach in Alexandria, Egypt at the request of 45 local churches. More than 100 church leaders invited local citizens, circulating 23 buses throughout different areas of the city each night. Despite the threat of persecution and the fear of the H1N1 virus, nearly 2,000 people gathered for each open air service.
"It was a remarkable event," stated Michael Youssef, Ph.D. "Thousands heard the Word of God and over a thousand expressed that they gave their lives to Christ, including an influential Muslim family. I believe this could be the start of a great revival in the region."
Dr. Youssef is heard regularly on radio in the Middle East. He also shares the love of Christ through His new 24/7 satellite television channel – KINGDOM SAT. This channel, the first ever allowed to broadcast on an Arab Satellite Platform, known as Nilesat, proclaims the power of God's Kingdom, uplifts Christian believers, and reaches the lost through biblically-based teaching programs. In addition to Dr. Youssef's daily programs, the channel features the most well-known teachers and evangelist from both the West and the East. The programs are translated into Arabic and African French. For more information on the KINGDOM SAT, visit http://www.kingdomsat.com
In addition to the Alexandria Outreach, Dr. Youssef held a special service at Cairo's Ramses College in October. More than 3,000 attended, with many accepting Christ as their Savior.
More information on Michael Youssef and Leading The Way is available at http://www.leadingtheway.org
About Michael Youssef
Michael Youssef, Ph.D., is the Founder and President of Leading The Way with Dr. Michael Youssef, a worldwide ministry that leads the way for people living in spiritual darkness to discover the light of Christ through the creative use of media and on-the-ground ministry teams (http://www.leadingtheway.org). His weekly television programs and daily radio programs are broadcast in 20 languages and seen in more than 200 countries - airing 3,300 times per week. He is also the founding pastor of The Church of The Apostles in Atlanta, Ga.
Dr. Youssef was born in Egypt, lived in Lebanon and Australia before coming to the United States. In 1984, he fulfilled a childhood dream of becoming an American citizen. He holds degrees from Moore College in Sydney, Australia, and from Fuller Theological Seminary in California. In 1984, he earned a Ph.D. in social anthropology from Emory University. He has authored more than 20 books, including the most recent - You Want Me To Do What? He and his wife reside in Atlanta and have four grown children, three grandchildren.
###