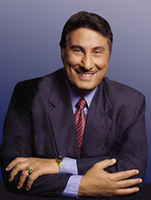 This has been a miraculous year
Atlanta, GA (PRWEB) March 1, 2010
Michael Youssef, Founder and President of Leading The Way, is pleased to announce the one-year Anniversary of his latest venture, THE KINGDOM SAT. This 24/7 satellite television channel is providing sound Biblical teaching to homes in the Middle East, North Africa and Europe.
"This has been a miraculous year," stated Michael Youssef, Ph.D. "When we went on the air 12 months ago, we did not comprehend the extent of the impact this one television channel would have on so many lives. We are sharing the love of Jesus Christ to the people of this region who are in desperate need for Biblical truth."
Launched as the first Christian television channel of its kind to cover the Middle East, North Africa and Europe, THE KINGDOM SAT quickly experienced unprecedented expansion last fall. THE KINGDOM SAT was selected by Nilesat (Atlantic Bird 4A) to become the first Christian channel ever allowed on the Arab satellite platform. In addition to Nilesat, THE KINGDOM SAT broadcasts from the Hotbird 8 platform. An estimated 150 million homes receive these two satellite services.
Established in March 2009, the channel's mission is to proclaim the power of God's Kingdom, uplift believers, and reach the lost through Biblically-based teaching programs. The channel combines programs from well known pastors/teachers in the United States and England along with programs that are created by the indigenous leaders of the region. Programs are broadcast in Arabic, North African French and English.
For more information on THE KINGDOM SAT, visit:
http://www.leadingtheway.org/site/PageServer?pagename=who_kingdomSAT
About Michael Youssef:
Michael Youssef, Ph.D., is the Founder and President of Leading The Way with Dr. Michael Youssef, a worldwide ministry that leads the way for people living in spiritual darkness to discover the light of Christ through the creative use of media and on-the-ground ministry teams (http://www.leadingtheway.org). His weekly television programs and daily radio programs are broadcast in 20 languages and seen in more than 200 countries - airing 3,800 times per week. He is also the founding pastor of The Church of The Apostles in Atlanta, Ga.
Dr. Youssef was born in Egypt, lived in Lebanon and Australia before coming to the United States. In 1984, he fulfilled a childhood dream of becoming an American citizen. He holds degrees from Moore College in Sydney, Australia, and from Fuller Theological Seminary in California. In 1984, he earned a Ph.D. in social anthropology from Emory University. He has authored more than 20 books, including the most recent - You Want Me To Do What? He and his wife reside in Atlanta and have four grown children, three grandchildren.
###