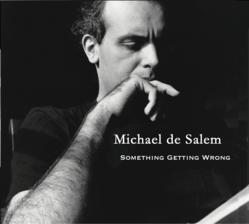 "Something Getting Wrong is a musical reflection on how I have come to perceive the world over the past 25 years. I intend for my music to make people consciously aware of certain unpleasant and pleasant incidents occurring amongst humanity..."
Salem, MA (PRWEB) August 16, 2011
"I wish to plant a song as a seed in the mind, heart and soul of the listener in hopes that the seeds will blossom into flowers and trees that live infinitely embedded deep into the consciousness of the being," ~Michael de Salem.
Michael de Salem was born and raised in Geneva, Switzerland, the world's most compact metropolis also known as the "Peace Capital." Michael's roots are firmly planted in his homeland where he peacefully resides free from the chaos that befalls many other countries. As a teenager he became very conscious of this chaos and injustice that plagued the world around him. Michael's young spirit was intensely affected by the disharmony between human beings and the Earth. He longed to discern the manic consciousness that befell mankind as he observed his fellow peers becoming disconnected and rebellious.
De Salem went on to study Physics at the University of Geneva to gain a better understanding of the behavior of the natural world. His studies brought forth a shocking discovery that planet Earth could eventually become unable to sustain any form of life as a result of the behaviors and choices of an un-evolved human consciousness. Michael began to feel a deep sense of how something went wrong with humanity somewhere along the way and began to contemplate his piece in this puzzle. From his childhood experiences and observations, he came to the conclusion that our children need deep spiritual teachings about consciousness and the natural world to manifest a sustainable future for our planet and its inhabitants.
Amidst a disharmonious yet beautiful world, Michael discovered an avid sense of harmony when one day, he picked up a broken classical guitar and began to play. This discovery brought so much joy and solace to Michael's heart and spirit and sparked his desire to further explore and study music on his own accord. He eagerly accomplished the first recording of his guitar on a tape deck while using headphones as a microphone. This prompted Michael to pursue a career in music and soon enough he began working at The Annual Montreux Jazz Festival, which is known as Europe's most prestigious music festival. He worked as a representative for some of the world's leading Guitar brands.
Michael made his recording debut as a guitarist, co-composer and producer on several African, Pop, Punk, and Spanish albums released in Switzerland, which in turn lead to the debut of his first solo album - Something Getting Wrong.
De Salem took a very unique approach when composing his music by combining musical expressions of life experience with his extensive knowledge of natural science. He explains," Every sound in my compositions is chosen to dance with the other, identical to the way elements inherently come together to compose matter."
Something Getting Wrong combines a unique musical articulation of Michael's perspective on the disharmony that plagues our planet, coupled with his advocacy for human and environmental rights. Michael composed and produced the album and developed the sound on guitar, keyboard, piano and drums. It was recorded between Boston, New York City and Geneva by Mee Sangpo with the Sangpo Mobile Studio and mastered at Sterling Sound in New York by Greg Calbi.
De Salem hopes his music will gift the imagination with a contemplative melodic platform to awaken deeply rooted memories and emotions while opening the mind to freedom of expression. Something Getting Wrong truly evokes the curiosity of the listener with an alluring ambient electronic soundtrack accompanied by the haunting melodies of a cello (Ann Nina).
Michael says, "Something Getting Wrong is a musical reflection on how I have come to perceive the world over the past 25 years. I intend for my music to make people consciously aware of certain unpleasant and pleasant incidents occurring amongst humanity by building my music around particular events that have evoked my attention."
De Salem dedicates Something Getting Wrong to exposing the suppression occurring in China of a traditional Chinese discipline called Falun Gong. He hopes to evoke global awareness to this human rights crisis, which is possibly the largest religious persecution in the world today. According to http://www.falundafa.org, Falun Gong is known as a high-level cultivation practice guided by the characteristics of the universe—Truthfulness, Benevolence, and Forbearance.
Today, Falun Gong is practiced and cherished by over 100 million people in over 100 countries, and has received a plethora of honors. The injustice being done to many Chinese citizens and their families who are practitioners of this ancient discipline is resulting in torture, imprisonment and death. Michael was deeply touched by a story of a Chinese family who fell victim to the persecution of this practice and lost their lives as a result. The song entitled "Higher," on de Salem's debut album was written especially for the victims in China who have suffered tremendously and lost their lives for simply wanting to improve their lifestyles and attain higher levels of consciousness.
"All human beings, whatever their cultural or historical background, suffer when they are intimidated, imprisoned or tortured…We must, therefore, insist on a global consensus, not only on the need to respect human rights worldwide, but also on the definition of these rights…for it is the inherent nature of all human beings to yearn for freedom, equality and dignity, and they have an equal right to achieve that." -The Dalai Lama
De Salem is currently working as a sound engineer in Geneva and fosters his passion for Physics by traveling the world on occasion. He frequently visits a quaint coastal city by the name of Salem in Massachusetts. This colorful and culturally diverse place is known for an impressive display of historic architecture and mysterious stories that span almost four centuries. Michael feels a deep connection to the mystical energy of Salem and senses a profound synchronicity in having the same name.
Michael's Music is now available in the US at all quality book and record stores, internet stores such as Amazon and CDBaby as well as iTunes for downloads and other online outlets.