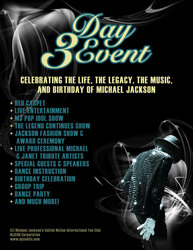 The Original and FIRST Official Michael Jackson Fan Convention since 2006.
Las Vegas, NV (PRWEB) July 13, 2010
This event has been supported and attended by members of the Jackson Family, as well as various celebrities, the first four consecutive years as the Original and FIRST Official Michael Jackson Fan Convention. Joe Jackson, Geraldine Hughes - author of the book "Redemption," and Larry Nimmer - filmmaker of "Michael Jackson: The Untold Story of Neverland." are scheduled to attend. Larry Nimmer will be showing never before seen footage of Neverland and Bashir outtakes from the documentary on Michael Jackson.
Every year, dedicated Michael Jackson fans come to this convention from all around the world to celebrate the life and legacy of Michael Jackson, "The King of Pop," with the people he adored most - his fans.
This Three-Day Event Includes:
Top professional tribute artists, impersonators, MJ Pop Idol Show, dance party, live production shows, MJ birthday celebration, group trip, special guests, an award ceremony and more.
MJSUNIFC has previously hosted several events including the Official "This Is It," premiere in Las Vegas, NV (held at the Brenden Theatre inside the Palms Hotel and Casino) and is on the fundraising committee of the Official Jackson Family Foundation.
MJSUNIFC has been featured in various media outlets and publications including USA Today, TMZ, Details Magazine, Las Vegas City Life, LVH Magazine, The Strip View Live, Fox News, ABC News, CBS News, and is the biggest Michael Jackson Fan Club on Twitter with over 15,000 followers. http://twitter.com/mjsunifc
Tickets for the 5th Annual Michael Jackson Fan Convention are on sale at http://www.mjsunifc.com/mjconvention5/tickets.htm
For Media/Sponsorship inquiries contact:
Raquel Choyce
Email: event(at)mjsunifc(dot)com
Phone: 702-226-1868
Event Web: http://www.mjsunifc.com/mjconvention5
Main Web: http://www.mjsunifc.com
©MJSUN Corporation
###