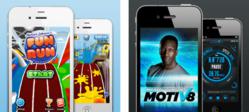 Some of the same things I suggest on the Motiv8 app are the same things that helped me win medals and break records.
(PRWEB UK) 20 July 2012
Legendary Olympic sprinter Michael Johnson is aiming to pass on his experience and wisdom through two brand new mobile phone apps which have arrived on the iTunes App Store.
Johnson won four Olympic gold medals in a glittering career which saw him dubbed 'The Fastest Man In The World' after he broke world records in both the 200m and 400m disciplines.
Now the man who famously wore gold shoes to run, has developed gold standard apps which will once again put him on top of the podium.
Michael Johnson's Motiv8 allows users to get their fitness back on track, featuring unique 'timesplicing' technology which allows runners of all standards to have Michael run alongside you as your wingman. Michael Johnson's Motiv8 gives runners an Olympic legend as their running coach, offering words of encouragement every step of the way. Runners can also choose from a range of Olympic standard warm-ups as well as targeting a selection of time and distance challenges and achievements to receive the ultimate accolade - a Michael Johnson Certificate of Achievement.
Michael Johnson's Fun Run is a frenetic, fun-filled, mind-boggling casual game aimed at kids of all ages. Whilst your fingers are doing the sprinting, through a series challenging environments of sprint and cross-country, it's your mind that's doing the thinking, with the message that a poor diet slows you down whilst healthy alternatives can put you on the right track. The ultimate goal is to get to the finish line as quickly as possible and collect those elusive, hard-fought, gold medals.
Michael Johnson said:
"I have always enjoyed motivating people and the Motiv8 app allows me to do just that through a medium that people can use at anytime and when I am not there with them. It is the perfect way to track your fitness, set fitness goals, and stay motivated to train.
"Another generation of young people that communicate through a very different medium. Engaging with a younger market by entertaining and educating. Mobile is a brilliant way to get my message out to millions of potential people, to help with their fitness and wellbeing.
"Motiv8 and Fun Run use a contemporary medium to re-engage individuals with sport and health. A perfect way to keep running and fitness with them at all times. The running app is perfect to have in your pocket, you can't take a computer, and I'm not always available to run alongside you!
"Child obesity is a huge problem around the world particularly in the US and the UK. Exercise and healthy eating are the keys to combating this problem and the Fun Run app will hopefully get kids interested in running and also teach them about the harmful effects of a poor diet in a fun way."
Michael Johnson's Motiv8 is available on the iTunes App Store and Google Play priced at 69p and $0.99.
http://itunes.apple.com/gb/app/michael-johnson-motiv8/id501945154?mt=8
https://play.google.com/store/apps/details?id=com.appshen.motiv8&hl=en
Michael Johnson's Fun Run is available on the iTunes App Store priced at 69p and $0.99.
http://itunes.apple.com/gb/app/michael-johnsons-fun-run/id536103489?mt=8
Ends
For screengrabs and other assets please email matt.morris(at)moshen(dot)com or download from Games Press.
Editor's Notes
Moshen is a next generation technology company working across the full spectrum of mobile, social and web-based platforms. Moshen has previously produced Professional Darts Championship, Pop Bubble Pop and Darts Night for the iOS as well as working on mobile products for Chelsea Football Club, Direct Flights and Breville. http://www.moshen.com
For more information on Michael Johnson please visit his performance website at http://www.michaeljohnsonperformance.com