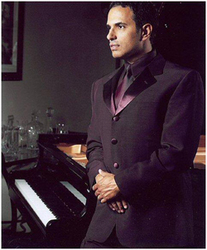 Michael Paige is a unique talent. He's a versatile singer and songwriter with a strong romantic voice, and the ability to create an emotional connection with the listener
Las Vegas, NV (PRWEB) February 5, 2008
Astrum Records adult contemporary, pop recording artist Michael Paige has been classified as The New Voice Of Romance with the release of his self-titled record, due to launch this coming second quarter. The assortment of Michael's project encompasses love ballads and dance music crossing over to a blend of continental flavors. Michael's style and hands-on approach makes him multi-talented in all aspects of music, from writing and publishing his own music, to singing in six languages and playing the piano.
"Michael Paige is a unique talent. He's a versatile singer and songwriter with a strong romantic voice, and the ability to create an emotional connection with the listener," says Don Grierson, former Senior VP of A&R at Sony/Epic Records.
Michael was privileged to co-write with songwriters such as Linda Thompson, who was nominated for both an Oscar and a Grammy for her song in the movie Bodyguard, and Amy Foster-Gillies, who has written songs for Eric Benet, Diana Krall, Michael Buble and Andrea Bocelli. "The team behind the music has been carefully selected and has resulted in a perfect masterpiece ready for the consumer market", states Josh East, Senior Project Manager for MusiK1. With music producer Tony Smith on board, who's worked on projects with Dolly Parton, Barbra Streisand, Lionel Richie, Whitney Houston and Johnny Mathis to name a few, the music quality has captivated those who've had the opportunity to listen to the record. The caliber of musicians are also sensational; with guitarists Michael Thompson, who worked on Quincy Jones' Q's Juke Joint album, as well as Steve Farris, who played guitar for Eddie Money and later went on to form the group Mr. Mister and also performed for Celine Dion.
As Michael prepares for tour season, with specialty market properties such as casinos and cruise lines ready for scheduling, on top of in-store performances at prominent music retail locations, his record campaign has been kicked in full gear. The solid alliance between Astrum Records and record campaign solutions provider MusiK1 has initiated an online, terrestrial radio and retail marketing campaign to target both the Internet and traditional consumer market. Both companies are also in pre-production, creating a reality show around Michael's campaign initiatives.
PR Note: To gain access to art work, song snippets and a YouTube video stream, please visit Billboard Publicity Wire and conduct a search for Michael Paige. You may also visit Michael's MySpace Profile for rich media content.
About Michael Paige:
Born in Bronx, New York to an Austrian father and Cuban mother, Michael grew up in a multi-cultural setting. As a child, he studied piano and played at the Carnegie Hall for the Children's Concert Series, knowing at the age of 14 that music would be a big part of his life. After receiving his Bachelors in Piano at the prestigious Mannes College of Music, Michael now resides in Las Vegas where he's currently completing his masters at UNLV, and continues to perform at such prominent hotels as in The Mirage, The Bellagio, Treasure Island, The Luxor and Rio.
About MusiK1:
Kingdom One Entertainment Group, LLC, established MusiK1 as its music division to concentrate on providing record campaign solutions for the independent artist and label community, with a strong focus in new business development. Kingdom One has also formed a label and publishing arm to support its signed artists with Label Support and project development. The company's unique operating method allows its resources to be integrated within a wide range of music driven initiatives that stay abreast of music and its consumer's evolution. These ties further ensure the continuity of MusiK1's ability to offer innovative solutions for its clients, artist roster and partners while aiding in the growth and reformation of industry standards.
About Billboard Publicity Wire:
Billboard Publicity Wire is the major and indie entertainment press release service that combines the direct-to-media distribution approach of traditional PR wire services with the latest direct-to-consumer social media features and search engine optimized (SEO) internet distribution techniques. It's the most effective service available for generating media coverage and online visibility for your artists, music, films, games, events and web sites.
###