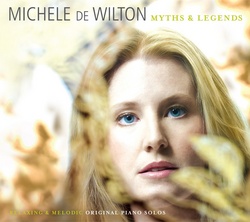 "... to appease my imagination and stimulate my spirit I put on Michele de Wilton's new album Myths & Legends." -- R.J. Lannan, veteran music reviewer, New Age Reporter
Los Angeles, CA (PRWEB) December 3, 2009
In this new era of "conscious entertainment," one would be challenged to find more positive music than Michele de Wilton's mystically beautiful Myths & Legends. Hailed as "New Age piano at its best" by industry veterans, de Wilton's 13 original compositions convey compelling stories of adventure, love, and endless yearning. The album's tracks -- 55 minutes of sophisticated and soothing music -- are based on both well-known and obscure tales that will inspire the imaginations of adults and children alike.
Praise abounds for this artist's debut album, which is distributed by New Leaf Distributing (specialty bookstores) and CPI Distribution, Inc. (Borders, Barnes and Noble, etc…), as well as online outlets like iTunes, Rhapsody and Amazon. In an early indicator of success, the album earned 33 New Adds in its first month of radio promotion.
Veteran reviewer RJ Lannan of New Age Reporter recently wrote "…I like to get lost in tall tales of heroes and characters of ancient times…So to appease my imagination and stimulate my spirit I put on Michele de Wilton's new album Myths & Legends."
FHI (For Her Information) Magazine's annual "It Girl" issue also proclaimed "Sophisticated, dramatic, and truly relaxing, this debut album is perfect for unwinding at the end of the day and as great dinner music," CMH Magazine in Columbus recently featured an interview with Michele de Wilton following her relocation to the Ohio city from Chicago. The artist has also lived and studied abroad in London, Cape Town, and Athens, where she gathered some of the colorful stories she shares through her music.
Its mythological theme attracts a broad array of fans to de Wilton's album, which includes sophisticated interpretations of classic tales like "The Ice Maiden" alongside less well-known myths such as "Salt River." The artist sees an interest from teachers, as well as a family appeal, with the gently twinkling "Nursery Rhyme for a Starry Sky" sure to become a favorite for young children at bedtime. The stories behind each of the 13 intriguing tales are explained at the "Musical Journey" page on the artist's beautiful interactive website at http://www.micheledewilton.com.
For sophisticated listeners, Myths & Legends also succeeds as entertaining background or relaxation music, thanks to de Wilton's contemplative style on the piano, having begun training at age 6. Her love for musical storytelling was inspired by artists like Janis Ian and Chris de Burgh, but her music is much more along the lines of new age artists such as Liz Story, George Winston or David Lanz. De Wilton names composers Frédéric Chopin, Felix Mendelssohn and Bedrich Smetana as a few of her earliest classical influences. The fact that her current piano coach, Jennifer Loftus, is also a Reiki healer seems apropos to Michele's path in exploring New Age music.
A lover of performance, the pianist herself is featured in a popular music video of "The Ice Maiden" currently airing on YouTube.com, MusicDishTV, and numerous websites worldwide. The album is supported by a marketing team comprised of Only New Age Music, The B Company, KDM Promotion, and Greg Steffan; distributors include New Leaf Distributing and CPI Distribution, Inc.
The album was expertly recorded at the Chicago Recording Company on a Steinway Concert Grand during the record Chicago snowstorms of 2008. The album was produced by Troy Ihlanfeldt, engineered by Dennis Tousana and mastered by Dan Stout of Colossal Mastering, with CD manufacturing by TSI, Inc. of Valencia, CA.
It is worth noting the project's exquisite design, which was handled by Merge Designs and Interactive (website), Maria Pinto (fashion) and Bill Diodato (photography). Hair and makeup are by Charles Lord and Lisa Trunda, respectively.
Michele de Wilton's inspirational, transporting and melodic new age album, Myths & Legends, is available for purchase at your local music retailer, as well as, major online retailers.
For performance updates, videos, music downloads and background information, please visit the artist's website at http://www.micheledewilton.com. The media can download information and images at http://www.sonicbids.com/micheledewilton. Music writer and reviewers are encouraged to contact publicist Beth Ann Hilton of The B Company for review copies via email to bethhilton(at)thebcompany.com.
Myths & Legends Track List:
Salt River
Cupid & Psyche
The Ice Maiden
Lady of Shalott
The Vigil
Hymn of the Hills
Waltz for Gerda & Kay
The Door in the Wall
Galetea
Ilium
Voyage of the Argo
Sea of Sunset
Nursery Rhyme for a Starry Sky
About the Artist:
Michele de Wilton lives in Columbus, OH, with her husband and two children; she holds a Bachelor's and two Master's degrees from Northwestern University. Myths and Legends is her debut album. Her fascination with musical storytelling was inspired by more contemporary singer-songwriters like Joan Baez, Chris de Burgh and Janis Ian, with a nod to Broadway composers Andrew Lloyd Webber and Claude-Michel Schönberg. However, her list of influences is not complete without mentioning the illustrative film composers Ennio Morricone, Michael Nyman and Hans Zimmer.
Artist Links:
http://www.micheledewilton.com
http://www.sonicbids.com/micheledewilton
http://www.reverbnation.com/micheledewilton
###