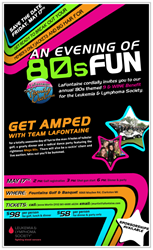 Detroit, Michigan (PRWEB) May 02, 2013
Organizations like the Leukemia & Lymphoma Society count on the help and support of local and far-reaching companies like local MI car dealers and the LaFontaine Automotive Group. With less than three weeks to go, Team LaFontaine is reaching out for everyone's help for its 9 & WINE Benefit.
The event is LaFontaine's Annual 80's attire 9 & WINE Event being held on May 17th at The Fountains in Clarkston. Those who want to attend the event can join in two ways. For those who want the entire experience of golf, dinner and the party they can join for $98 a person. If the guest only wants to join the dinner and the party, it is $58 a person.
Golf registration starts at 2 p.m. with the shot gun start at 3 p.m. and the final part of the evening starting at 6 p.m.
Why is it so important to the LaFontaine Automotive Group? Ryan LaFontaine is also celebrating his fifth year being cancer free. He wants to ensure that others can receive the help and treatment they need with help from sponsors like his Automotive Group.
The LaFontaine Automotive Group wants to raise $200,000 and is reaching out to all the local MI car dealers and beyond to bring as much support as it can to the Leukemia & Lymphoma Society on May 17th.
Team LaFontaine asks that everyone share the event as MI Auto Times is sharing with its readers to get the word out as far as it can reach. For those who would like to donate or buy tickets to the event, please visit Team LaFontaine at http://www.teamlafontaine.com.
Feel free to email the website for more information at news(at)miautotimes(dot)com or connect with them on Facebook to keep up news of the event: http://www.facebook.com/MichiganAutoTimes.
MI Auto Times covers all Michigan automotive news all the time, featuring newly released vehicle recall information, relevant Michigan automaker news, vehicle ratings and comparisons, and everything else auto-related Michigan and world readers need to know.
[Related: MI Car Dealers Hear One Dealership Breaks Fundraising Record for Leukemia & Lymphoma Campaign
About Nexteppe (http://www.nexteppe.com):
Nexteppe provides dealerships with a dedicated support team and a full suite of all-in-one products including InControlPro, Comment Builder and ProSHOTS. Take your dealership inventory marketing and management to the next level with Nexteppe. Learn more about how we can enhance your website's design and enhance your inventory marketing and management by visiting us on the web or calling our New York office at 888-572-8892.