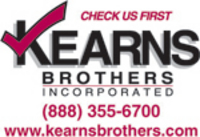 unparalleled commitment and dedication in producing a strong value for our clients
Dearborn, MI (PRWEB) March 10, 2009
Kearns Brothers Inc, a leader in the home improvement industry and serving more than 25,300 customers in Greater Southeast Michigan, is ready to help homeowners get the most from the new stimulus package energy credits. With a maximum credit increase from $500 to $1500 on roofing, insulation, and windows, homeowners can add value, bump up savings and permanently protect their investments by upgrading the energy envelope that maximizes efficiency and comfort.
And with solutions that yield savings beyond the 2009 energy tax credit benefits, the company notes that this is a great time to enlist their help. Kearns Brothers has thrived, even in a difficult economy, perhaps partly because they deliver what might be termed extreme value in both customer service and product and installation quality.
"We are excited about making sure each customer gets the very best products and installation possible for a really effective energy envelope, moreso now with the new stimulus package energy credits. We install a roofing system that improves the ventilation of your attic and could be the last roof you will ever need or spend money on. Our insulated siding can really boost the R-value of your home (up to 22%!) and our Restorations Replacement Windows guarantee a 40% energy savings," explains President and Owner Mike Kearns.
Primary offerings include:

Steep slope and residential Weather Stopper® Roofing System from GAF-Elk
CertainTeed CedarBoards insulated siding and Wolverine vinyl siding; James Hardie cement board siding
Replacement windows from Restorations Innovative Window System
Masonry rebuilds or replacements for porches, chimneys, brickwork and cement work
Insulation: blown in cellulose attic and wall
The Michigan roofing and siding contractor, recognized for its service with the Best of the Best, MasterElite Roofing Contractor for GAF-Elk for the 10th consecutive year, and CertainTeed 5-Star Siding Contractor and other awards, credits its notable success to "unparalleled commitment and dedication in producing a strong value for our clients," according to Mike Kearns.
"I place a strong emphasis on providing and generating exceptional, full-time customer service," Kearns continues. "You can't assign a dollar value when a real person answers your phone call and genuinely wants to help you…right then and there…and you can't place a dollar value on our service department's commitment to help you within an expeditious time frame."
Interested homeowners are encouraged to contact Kearns Brothers to find out more about how they can benefit from the 2009 Energy Tax Credit. In addition to images, complete details about products and services, a GAF roofing video that details the roofing system, and current specials, the company website invites visitors to "Ask Doctor Holm."
About Kearns Brothers, Inc:
Mike Kearns, President and Owner of Kearns Brother, Inc started the company in 1986 after serving in the United States Navy, graduating from the University of South Florida - School of Business in Tampa, and six years in corporate management. Kearns Brothers is now a nationally recognized, manufacturer-certified contractor and award-winning agency, based in Dearborn, Michigan.
# # #