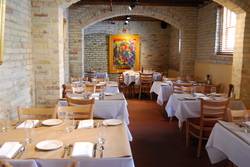 website for those who want to know what's recommended for the best in
Grand Rapids, MI (Vocus) April 6, 2009
Amidst dire Auto Industry news for Michigan, the State's Tourism and Agricultural Industries are taking hold as the new bright stars of Michigan's economy. Keeping pace with this shift, a new tourism website has just launched that highlights the best in Michigan culinary experiences and agri-tourism. GreatFoodandTravel.com combines food and travel experiences with information and reviews about the best Michigan restaurants, inns, and hotels. It also features wineries, microbreweries, farmers markets, and more along the Lake Michigan Great Lakes shore from Saugatuck, Holland, and Grand Rapids to Traverse City and Mackinac Island. GreatFoodandTravel.com features Michigan chefs, their recipes, and package offers. Short videos also give an inside look at unique restaurants and chefs creating their specialty dishes.
Great culinary businesses - restaurants, wineries and microbreweries - have found a home in the southwestern, western, and northwestern parts of the state. In this fertile region, which has been compared to the New England Coast for its quaint charm, farms are abundant and people are welcoming. Along the expansive 300-mile stretch from New Buffalo to Mackinac Island vegetables, fruits, meats, and dairy products are harvested for unique farm-to-table restaurants that dot the Lake Michigan shore.
Facts about Michigan Agriculture:
Michigan leads the nation in the production of 19 agricultural commodities.
Michigan is the second most agriculturally diverse state in the U.S.
Michigan has 10 million acres of farm land.
The Michigan Agricultural Industry grew almost 6% between 2004 and 2006 and continues to expand.
Michigan has more than 60 wineries that are operating in Michigan contributing $300 million in economic activity and growing at a rate of 15 percent annually.
GreatFoodandTravel.com focuses on this trend by identifying quality restaurants, lodging and other culinary experiences that have developed largely because of the abundant and diverse local products that are available from Michigan farms.
GreatFoodandTravel.com is the first website for Michigan that gives culinary reviews and a comprehensive list of unique, quality lodging for those with an interest in great food and culinary experiences. It also invites travelers to submit their own reviews of Michigan restaurants, wineries, microbreweries and lodging which are then posted on the website.
According to Sally Zarafonetis, President and CEO of GreatFoodandTravel.com "This website was inspired by my love of fresh food and the beauty of Michigan. I looked at research trends and talked to people interested in good food. They were enthusiastic to have a resource on the web that provides this kind of culinary information. It is a website that helps busy people plan a vacation or a short getaway. GreatFoodandTravel.com has the best restaurants and places to stay where local food is abundant. Through hundreds of hours of research, I've pinpointed all of the greatest locations along the Lake Michigan Shore. GreatFoodandTravel.com is a "where to go, where to stay, where to eat" website for those who want to know what's recommended for the best in "one of a kind" farm-to-table restaurants, microbreweries, wineries, and unique lodging along the state's western shore from the southern border up to Mackinac Island."
Great Food and Travel.com includes hundreds of listings of great Michigan restaurants, b&b's, inns, hotels, microbreweries and wineries. It will include other culinary finds like farmers markets, farm tours, wine and beer events and more. By the click of the mouse on the regional map a visitor can obtain information about what is available in a particular region. GreatFoodandTravel.com also features videos and a blog offering frequently updated content about Michigan's travel and dining scene serving culinary travelers and the "foodie" audience."
Examples of special places on GreatFoodandTravel.com include:
Red Ginger is a chic Asian restaurant in Traverse City led by CIA-trained chef and owner Dan Marsh and wife Pam, featuring creative Chinese, Thai, Japanese, and Vietnamese cuisine.
Trattoria Stella is a beautiful restaurant, one of many businesses, in a renovated century-old Victorian Italianate building on 63-acres that used to serve as Traverse City's Mental Hospital. Trattoria Stella serves innovative, fresh farm-to-table Italian creations with outstanding wine selections and has been a Wine Spectator Award of Excellence winner since 2005. Sommelier and owner, Amanda Danielson seeks out the best ingredients from farms in the area, Michigan wines and microbrews, and select great wines of the world. Danielson is pursuing her Master Sommelier diploma.
Mia & Grace is a hip, youthful gourmet restaurant in Muskegon where casual dining meets a "five star quality" menu. The chef owners are from Houston, Texas and their creations lean toward Southern cooking with quail and caviar on the menu.
Six.one.six is located in the newly built JW Marriott hotel overlooking the Grand River in Grand Rapids. Six.one.six espouses a farm-to-table philosophy and their menu is created around what can be obtained from area farms. They bring fresh vegetables, locally made cheeses, and other foods harvested from farms in the area to their sophisticated trendy dining room.
The Greenwell is one of the first LEED-certified restaurants in the Midwest, located in Grand Rapids, a city that has more LEED buildings per capita than any other U.S. City. The Greenwell serves a farm-to-table casual menu and many local microbrews made in West Michigan by leaders in the microbrew beer industry like Founders, New Holland, and Bells, which are located in western Michigan.
The 1913 Room is located in Grand Rapids at the Amway Grand Plaza Hotel is the only five diamond restaurant in Michigan. It is run by Executive Chef, Josef Huber who was trained in the five-star, five diamond Elisabeth Park Hotel in Salzburg, Austria and worked as a chef in restaurants around the world before landing in Grand Rapids.
San Chez Bistro is a popular Spanish tapas restaurant that offers organic and locally grown foods on their menu and maintains a commitment to "green" management throughout all levels of restaurant operation.
Tuscan Restaurant is owned and operated by CIA trained chef Dan Chudik, one of the first in Michigan to espouse the farm-to-table philosophy for his Mediterranean inspired restaurant.
On March 30, 2009 The State of Michigan launched a national tourism campaign, their biggest tourism campaign ever, featuring four themed television spots which will run throughout the Spring on major cable networks including Travel Channel, the Golf Channel, A&E, Bravo, E!, CNBC, MSNBC, Food Network, CNN, and Time Square Billboards.
Michigan is a state that has an abundance of natural beauty. Surrounded by the Great Lakes on three sides, Michigan is also known for its floriculture and nursery industry as well a hub for agri-businesses like Yoplait, Keebler, Kelloggs, Country Fresh and Gerber products.
Since it's birth as an industry in 2003, culinary tourism has grown each year as illustrated by the number of culinary travel shows that are now popular on cable and network TV channels. GreatFoodandTravel is designed for the growing number of people who seek unique, quality restaurants and culinary experiences along the coast of Lake Michigan.
# # #