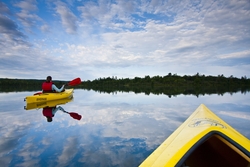 Benzie County, MI (Vocus) March 30, 2010
Benzie County, Michigan on the southern coast of the Sleeping Bear National Lake Shore is making it easy for new visitors to schedule a vacation trip to this highly desirable location this spring, summer or fall 2010. A visit to the pristine, beautiful Benzie County along the northern coast of Lake Michigan is perfect for a Michigan summer vacation. Benzie County is especially enticing due to a unique travel promotion called "Passport to Fun". Visitors who book two or more consecutive nights at one of many participating lodging locations, can receive the passport worth over $175 in free food, entertainment, and recreational opportunities.
The "Passport to Fun" Michigan Summer Vacation is being offered from May 1 – October 31, 2010 and includes over fifteen free or discounted food, restaurant, sightseeing, kayak and golfing opportunities including a Sleeping Bear Dunes two-for-one boat cruise on a brand new glass bottom boat with seating for 150 people, offering daily trips to the Sleeping Bear Dunes National Lakeshore.
Most recently, Benzie County has become a desirable filming location for the motion picture industry due to its quaint small towns and pristine beauty. It was featured in the 2010 motion picture "Youth in Revolt" with Michael Sera. Reasons for a Benzie County summer vacation in 2010 include:

A visit to the Cherry Hut, a restaurant that was cited by Bon Appetit Magazine in 2009 as among the top 50 food finds in the United States for their spectacular cherry pie. Northern Michigan cherry growers harvest about 20 percent of the nation's sweet cherry crop each year.
A stay at Chimney Corners Resort one of the oldest family resorts in Michigan, which is celebrating their 75th year in operation. Chimney Corners offer family-friendly cottages overlooking stunning Crystal Lake. During the summer watersports for the kids are aplenty and they serve homemade dinners for guests, as well as, breakfast and lunch in their casual lakeside café.
A vacation at The Inn at Watervale another historic family owned summer resort which is celebrating their 93rd year. The Inn at Watervale is a place where generations of families have gathered every year to relax in the many unique cottages along Lower Herring Lake. All meals are included with a stay at Watervale. The resort also owns a mile of private Lake Michigan shoreline exclusively reserved just for guests.
A family getaway to upscale Crystal Mountain Resort & Spa in southern Benzie County. This award winning resort and spa recently received accolades as the 2010 Michigan Golf Course of the Year by the Michigan Golf Course Owners Association, a Silver Sage Award by Spa Magazine as one of the top 5 favorite resort hotel spa in the Northeast, Mid-Atlantic and Midwest Region, and was featured by Spas of America as one of the Top 50 Spas for 2009.
Benzie County Visitors Bureau Board Chairman Rick Schmitt states, "Benzie County has natural beauty and a captivating relaxed charm that many are discovering as a perfect summer vacation from the city. We offer some of the best golfing, fishing, kayaking and other outdoor recreation in a beautiful part of the United States, along the coastline of Lake Michigan. Benzie County's Sleeping Bear National Lakeshore is nothing short of breathtaking in the spring, summer, and fall, and our small villages and towns are artsy and cool with great restaurants and lodging."
Benzie County is located along Lake Michigan's shoreline in the Lower Peninsula just 30 minutes southwest of Traverse City, Michigan. Benzie County, known for its natural beauty and outdoor recreational opportunities, is a natural summer vacation spot to visit the Sleeping Bear National Lakeshore and National Park. Travel to Benzie County is a day's drive or less from major Midwestern cities including Detroit (235 miles – 5 hours), Grand Rapids, (130 miles – 2.5 hours), Chicago (290 miles – 5.5 hours), Fort Wayne (295 miles – 5.5 hours) and Indianapolis (380 miles – 7 hours), as well as, Milwaukee (by way of the Lake Express Ferry from Milwaukee to Muskegon).
For more information about the PASSPORT to FUN package and to ask about a Benzie County vacation, contact the Benzie County Visitors Bureau at 800-882-5801 or log on to http://www.visitbenzie.com
# # #