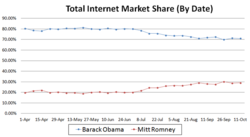 The Spartan Internet Political Performance Index has once again over a year in advance predicted the outcome of the presidential election using an aggregation of over 650 digital marketing factors.
(PRWEB) November 08, 2012
Since 2008, Spartan Internet consulting, a Lansing, Michigan digital marketing company has been able to predict the outcome of presidential and gubernatorial candidates based on aggregation of over 650 online factors. President Obama entered the 2012 presidential election with a commanding lead in the Spartan Internet Political Performance (SIPP) Index indicating high likelihood of campaign victory.
The Obama campaign spent millions of dollars on paid search advertising and promoted social media posts to get the message out to the ever-expanding social communities that can impact individual voters. Also a great help during the campaign was the social community in support of the president.
On May 6, President Obama's Facebook page had over 26 Million likes. By Election Day, that number had grown to almost 32 Million. That's growth of 17% in 6 months. The story was much the same on Twitter. Obama's follower count had grown from 15 Million to 21 Million, an increase of almost 31%.
The Obama campaign's strategy was to be highly engaged on social media and regularly deliver fresh content on the campaign website as well as video and press releases to ensure that they were indexing content regularly on search engines and controlling the message of the election.
For a full analysis of the SIPP index visit http://www.spartaninternet.com/2012
Spartan Internet Consulting is a leading Michigan digital marketing firm and strategic internet planning and implementation services provider based in Lansing, Michigan. We service global clients, as well as small businesses SEO and paid search marketing. Spartan Internet has more than 30 specialists on staff with offices in Lansing, metro Detroit, Fort Lauderdale, and Washington DC.