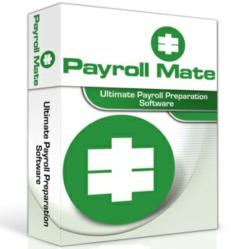 By using Payroll Mate, Michigan business owners can comply with new regulations, save valuable time, reduce cost, increase efficiency, improve filing accuracy, tighten records security and avoid harsh state and federal penalties.
Detroit, Michigan (PRWEB) October 03, 2012
Payroll Mate (http://www.PayrollMate.com) is helping Michigan businesses, accountants and payroll service bureaus comply with the changes to the Michigan payroll tax regulations. Effective October 1, 2012, the Michigan income tax rate drops to 4.25% and the personal exemption amount changes to $3,950. Withholding tables shipping with Payroll Mate have been updated to include these and other changes to the US payroll tax calculations.
A nationwide provider of tax and compliance software, Real Business Solutions (http://www.realtaxtools.com) invites Michigan small and mid-size companies to explore the powerful features of Payroll Mate. By using the easy-to-use payroll tax software, business owners can pay employees, manage payroll taxes, create an unlimited number of payroll checks and improve filing accuracy, all for one low price.
All current users of Payroll Mate will get the new withholding calculator updates for free. The software maker is also advising Michigan businesses that are still doing payroll by hand to start using a payroll software solution, which offers serious benefits, from increased payroll preparation efficiency to tangible cost savings
Below is a summary of the features offered by Payroll Mate:

Automatically calculates federal payroll tax and state payroll tax withholding.
Supports different types of pay periods.
Supports customizable income, tax and deductions categories.
Supports income per mile and per piece.
Supports the following federal payroll forms: 941, 940, 944, W-2, W-3.
Supports California DE 9 , DE 9C, Texas C-3 , Texas C-4, New York NYS-45, IL 941 and IL UI-3/40.
Supports fringe benefits.
Supports payroll vacation accrual and sick pay accrual.
Exports Payroll Data to QuickBooks software.
Exports Payroll checks to Quicken and accounting software like Microsoft Office accounting.
Generates comprehensive payroll reports.
Supports non-employee (1099 contractor payroll) with the ability to print 1099 MISC and 1096 tax forms.
Handles payroll deductions.
Exports payroll reports to Excel, CSV and PDF.
Prints on Laser and Inkjet checks.
Prints on preprinted red scannable W2 forms and W3 forms.
Free updates during the tax year.
One step backup and restore.
Runs over a network.
Supports payroll direct deposit.
Ability to print MICR checks on blank check stock.
Give the Michigan payroll tax calculator from PayrollMate.com a test drive and see for yourself how easy managing payroll can be. Visit Payroll Mate payroll software page by pointing your browser to http://www.PayrollMate.com