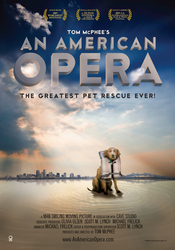 This documentary really is a story about who we are as people, and how we approach life in our world. Whether we're in a crisis or in our day-to-day routines, we each contribute to the successes and strife in our world
Ann Arbor, Mich. (Vocus) January 13, 2009
Man Smiling Moving Pictures, in association with Cave Studio, invites the public to a special benefit premiere of An American Opera at the Michigan Theater on the evening of January 29, 2009. Tickets for this one-time public premiere and VIP reception are now on sale through TicketWeb. It is a one-time showing of the film in Michigan, before it goes on a national tour.
Director/Producer Tom McPhee will present in person his award winning documentary, which details the efforts of thousands of volunteers who saved the lives of thousands of house pets immediately following the disastrous Hurricane Katrina. This Ann Arbor premier kicks off an extensive North American tour of An American Opera.
"This documentary really is a story about who we are as people, and how we approach life in our world. Whether we're in a crisis or in our day-to-day routines, we each contribute to the successes and strife in our world," said McPhee.
The film, described by critics as "The Greatest Pet Rescue Ever!", presents an honest inquiry into the human-animal relationship. Proceeds will benefit several local and national charities, including The Michigan Humane Society, Best Friends Animal Society, and a variety of senior service organizations in Southeastern Michigan.
Patrons and press are invited to meet director McPhee during a VIP reception starting at 7:00 p.m. in the theater lobby. Appetizers and beverages will be provided by local sponsors for the party. A special VIP area of the reception will include cocktails and an autograph session with the producer.
Standard ticket prices are $10.00 and VIP tickets, which provide reserved seating and an autographed poster from the event, cost $25.00. Information about the charitable organizations, as well as McPhee's other film projects, will be on display in the theater throughout the event.
The filmmaker will host a short question and answer session immediately following the 8:00 p.m. screening.
Individuals and businesses interested in sponsorship of this premiere event are welcomed to contact mycavestudio (at) yahoo.com.
About Tom McPhee & Man Smiling Moving Pictures
Michigan native Tom McPhee founded Man Smiling Moving Pictures and Cave Studio. McPhee has been an innovator in the film, event, multimedia, and television industries for more than 15 years. His award-winning documentary, An American Opera, is a visceral, operatic vision of what happened to the people of New Orleans who were forced to evacuate without their beloved pets and the volunteers who came from all over the world to help. For trailers and more information, visit http://www.anamericanopera.com.
###