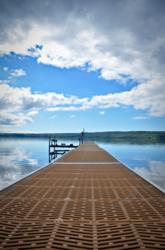 Chimney Corners Resort located in Benzie County, Michigan is a special Midwest resort with spectacular views, tasteful vintage cottages and rooms, and superb breakfasts and dinners during the peak summer season.
Benzie County, MI (Vocus/PRWEB) March 30, 2011
People often dream about their favorite summer vacation and where to venture next. Benzie County, Michigan, vacation getaways are especially affordable in the shoulder seasons of the year as well as summertime. Chimney Corners Resort located in Benzie County, Michigan is one of the most unique vacation gems in the Midwest. During 2011, from May through October, Chimney Corners Resort and other Benzie County lodging properties offer affordable summer vacations.
Whether it's in the spring, summer or fall, Chimney Corners Resort, a vintage resort now celebrating their 76th year on Crystal Lake in Michigan on the southern tip of the Sleeping Bear Dunes National Lake Shore, allows guests the refreshing opportunity to go back in time to a simpler decade.
Many of the Michigan cottages and rooms are decorated in antique furnishings. With screened doors that can be left open at night and the sound of the northern Michigan breezes, this resort is reminiscent of a time gone by.
Every week during the peak summer season a barbecue is held on Wednesday nights at Chimney Corners Resort. Ribs, homemade salads and fresh vegetables, fruit and dips, highlight the meal. Whatever is in season in Michigan is freshly prepared for a night of homemade goodness.
Friday night dinner in the peak summer season takes place in the 100-year-old lodge. The meal includes elegant fare such as prime rib, a chicken dish, fresh-caught whitefish and a vegetarian entrée, salads and sides. The highlight of the dinners are homemade desserts from the proprietor's cookbook, now in its fifth edition "Chimney Corners Cookbook, Recipes and Reflections from Northwest Michigan". Desserts included pumpkin bread pudding with an enormous bowl of whipped cream, marble bundt cake, and homemade carrot cake.
Each morning in the peak summer season guests can take a short walk to Chimney Corners' Beach Dining Room on Crystal Lake to enjoy breakfast. As part of the American Plan, most peak summertime rentals offer breakfast which is a choice of hearty blueberry whole-wheat pancakes, fruit and yogurt parfait made with homemade granola or a simple dish of fresh seasonal fruit with coffee. There is also a choice of eggs and omelets, French toast and a breakfast burrito.
Since there are no TVs or phones in the rooms or cottages, the only TV at the resort is at the Beach Dining Room. Guests instead can relax with a favorite book or go for a swim at the beach in the fresh waters of Crystal Lake. At the resort, they provide paddleboards, a couple of rowboats and a collection of water toys for the kids. There are also two rafts out in the water for swimming and resting. There's also a fire pit at the beach perfect for family-time storytelling and and s'more making.
Chimney Corners Resort sits on over 200 acres of prime real estate, to look at the amazing views from different vantage points. At a place called The View visitors can see for miles along the Sleeping Bear Dunes National Lakeshore with South and North Manitou Islands in the distance. From this point sailboat races and the Sleeping Bear Dunes Cruise Boat are in sight. The hilly property is lush with oak, maple, cherry, chestnut, birch, hickory, ash, and beech trees as well as wild raspberries and blackberries. Chimney Corners also has the world's largest remaining stand of American Chestnut Trees. In summer 2008 scientists from all over the world gathered here for their annual meeting to study the trees. Many of the different variety of trees on the property are 80 – 85 years old and have been carefully harvested in a few places to create views that include Crystal Lake and Lake Michigan from 200-foot elevations.
One of the advantages of a cottage stay at Chimney Corners Resort is that dogs are allowed. There is a slight fee for dogs and they recommend crating in the cottages if dogs are left unattended.
Reservations at Chimney Corners are by priority with those who have been longtime guests getting first pick. First timers get a choice of the weeks available in the cottage they've designated based on the availability.
Most of the people who have stayed at Chimney Corners for decades comment upon the interesting people they meet and relationships they've made. Many guests report that they had been coming here since they were children and now are returning with their children to relive the experience and pass along a family tradition.
For more information about this and other resort and lodging vacation properties in Benzie County see visitbenzie.com or call 800-882-5801.
# # #