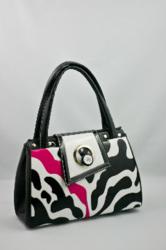 "We chose the chicks as ambassadors because they represent a common Michique customer - professional women who travel extensively and have fun doing it," says Newcombe.
Sydney, N.S. (Vocus/PRWEB) March 03, 2011
Michique handbags, designer purses handcrafted in Cape Breton, were a hit in one of the most prestigious Gifting Suites prior to the Golden Globe Awards in January, no small feat for a small Cape Breton Island company. Their invitation to the high profile Gifting Suite stemmed from a website campaign they participated in with Nova Scotia Business Inc. The campaign caught the attention of the Los Angeles based company who extended the invitation to not only the Gifting Suite before the Golden Globes but also to one at the 2010 TIFF.
Celebrities including actor Dennis Quaid and NCIS star Micheal Weatherly brought their wives to the Gifting Suite to view the distinctive made in Canada collection of bags created by twin sisters Michelle Newcombe and Monique Delisle. Jennifer Love Hewitt also graced the Gifting Suite browsing the Fall/Winter 2010 collection. "The Michique bag is a testament to the grace of a woman, something that should be celebrated," said Delisle. "We have worked for years perfecting the art of our designer purses and we knew it was worth it when a customer referred to her Michique bag as her soul mate."
Monique and Michelle actively search for new marketing outlets and in that vein have formed an alliance with the leading online marketing company in Canada, A Couple of Chicks e-Marketing. Nine chicks that travel globally for the internet marketing strategy firm have been gifted with Michique handcrafted bags from the Fall/Winter 2010 collection. "We chose the chicks as ambassadors because they represent a common Michique customer - professional women who travel extensively and have fun doing it," says Newcombe. The purses travelling with A Couple of Chicks e-Marketing are available in 25 retail stores in Atlantic Canada as well as online at http://www.michiqueonline.com/ .
Realizing the power of their online audience, Michique has created a new Virtual Gallery of "EXCLUSIVE Handbags". Each bag is a one-of-a-kind work of art created in the virtual world. Customers who see a piece they love can order via email or phone. The exclusive artwork will then be manufactured and the designer bag will be shipped directly to the customer. Because these are only created once, the Cape Breton firm's strict policy is first come, first served.
The handcrafted handbags are all originals and are designed and produced in Cape Breton. The hardware consists of a brass or nickel plated brass ring that slips over their branding. The signature handcrafted logo brands each bag, adorned with 9 genuine Swarovski Crystals. The firm always uses only 9 crystals in their branding and believes that anyone who owns a Michique handbag feels dressed to the nines. With 9 crystals and 9 chicks dressed to the nines with Michique designer bags, the business alliance between A Couple of Chicks e-Marketing and Michique is poised for success.
The Cape Breton entrepreneurs are strategizing to expand their brand into boutiques Canada wide. Parties interested in joining the already successful 25 Atlantic Canadian retailers offering Michique designer handbags are invited to connect with Michelle Newcombe at michique(at)eastlink(dot)ca
View the 2011 Spring/Summer Michique collection at http://www.michiqueonline.com/ or to see the chicks from A Couple of Chicks e-Marketing on their travels with their soul mate Michique handbags, visit http://www.acoupleofchicks.com
About Michique
Monique and Michelle are twin sisters, born in beautiful Cape Breton, Nova Scotia, Canada. The rustic coastlines and friendly people have kept them there most of their lives. Growing up, they usually weren't addressed by their correct names. Friends were confused as to which one they were speaking to. They would just call out "Michnelle, Michnique", and both of them would turn. Something great had to come from the confusion! Combined, they have 40 years of textile experience. For many years they have created high-end custom draperies, however, their passion for handbags can be clearly seen. In the past six years, their Michique brand is being noticed internationally.
Of course, no one ever finds success on their own. Their husbands James & Ron play a huge role, as well as their mother Yvonne and kind friends. Michelle has a beautiful daughter, Thea, who at five years old was already designing handbags for "mommy and meekee" to produce as a new collection. We invite you to experience our many years of family teamwork, all wrapped up in a beautiful package, a Michique handbag.
About A Couple of Chicks e-Marketing
A Couple of Chicks' research and communications management team bring together a wealth of experience and expertise in the fields of education and tactical solutions for hospitality and tourism online marketing. Based mainly in Canada, A Couple of Chicks have offices in Toronto, Niagara Falls, Halifax, Ottawa, Vancouver Island, New Hampshire and Texas.
The company was started in September 8, 2005 with a goal of sharing a passion for educating the tourism community about online marketing. The company provides a non-intimidating and fun approach to success online. In a nutshell, the Chicks provide practical hands on education, training and services for the hospitality industry through consulting, conferences, workshops, speaking engagements, articles, a book, blog and youth mentoring programs. The company is comprised of two major business units, A Couple of Chicks e-Marketing and Online Revealed, producing 7 online marketing conferences since 2005 as well as providing e-commerce business solutions for over 100 tourism and hospitality companies in Canada and the US.
Contact
Patricia Brusha
Co-Founder
pbrusha(at)acoupleofchicks(dot)com
416-817-5595
###