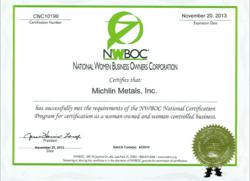 Michlin Metals Certified as WOSB and Caterpillar Supplier
Northbrook, IL (PRWEB) February 13, 2013
Michlin Metals Inc. (MMI) of Northbrook, Illinois, a leading distributor of aerospace metals to the Aerospace, Defense and Oil & Gas industries, is pleased to announce that it has received certification as a Woman Owned Small Business by the National Women Business Owners Corporation.
In business since 1984, MMI completed the rigorous certification process that included and in-depth review of operations, practices and an on-site facility inspection.
By including women-owned businesses among their vendors, MMI demonstrates to corporations and government agencies their commitment to fostering diversity and the continued development of their supplier/vendor base.
One of only a handful of woman owned small businesses (WOSB)in metal distribution, MMI seeks to align cost effective answers to customer material sourcing problems. Drawing off of almost 30 years of experience MMI offers out of the box thinking that will never leave the customer without an option.
MMI is a premier distributor of aerospace metals, stainless steel, aircraft, Nickel and Cobalt alloy bar, plate, sheet and tube to key manufacturing industries. Including medical, food processing, defense contractors as well as agricultural and aerospace. MMI looks forward to assisting new businesses with their material requirements. Within the broad network of companies throughout the marketplace, MMI is confident that it can be a valuable source of supply.
Michlin Metals provides solutions for its customers that include stock for release, distribution and value-added processing of raw steel products such as heat treating, centerless grinding, coil slitting and blanking, as well as physical and chemical property testing.
For nearly 30 years, MMI has built lasting customer relationships because of their attention to detail, and ability to listen and adapt to their customer's needs. Michlin Metals is focused on the future and their team looks forward to serving the government and all markets with sensible solutions, value-driven initiatives and unparalleled customer service.