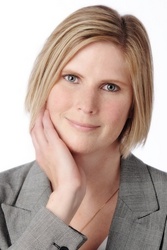 I am passionate about creating solid communication methods that achieve an honest and genuine connection with our clients.
Minneapolis, MN (PRWEB) April 8, 2010
White Oaks Wealth Advisors Inc, an independent wealth management firm in Minneapolis, MN recently promoted Micki Larson to Marketing Associate. This position helps to maintain the overall communication and media efforts for the company. Micki comments, "Communication is an integral part of a successful business and client relationship and I am very excited my contribution is recognized and appreciated."
Micki is responsible for the management of marketing communications and branding; publications; website development; search engine optimization (SEO); electronic communications; media relations and event coordination. She graduated with a Bachelor of Arts degree in English and has over 10 years of experience in the creative/marketing field with skills in communication, project management and event coordination.
Sharon Bloodworth, Partner and VP said " Micki is passionate about developing superior ways to communicate to make sure our clients feel secure and knowledgeable about their financial health."
"I look forward to deepening my relationships with White Oaks' clients, friends of the firm and national media to promote our successes and good work" Micki said.
Micki is committed to helping continue the strong success and growth of White Oaks and looks forward to further developing their marketing and communication strategy.
White Oaks Wealth Advisors Inc is a private, fee-only wealth management firm within Minneapolis, MN that specializes in simplifying the complexities of wealth for upper net worth individuals. The firm offers an advisory team with over 60 years of experience in areas such as retirement planning, investment advice and management, estate planning, tax planning, stock option exercise, charitable gift planning, qualified plan distribution planning, and many other issues that individuals face in meeting and achieving their financial security goals. White Oaks Wealth Advisors, Inc. has been honored by having team members listed on the "Top 250 Financial Advisors" by Worth Magazine, Top Dog's by Bloomberg Wealth Manager, "5 Star Advisor" by Paladin Registry, "WiserAdvisor.com", "Best 150 Advisors for Doctors" by Medical Economics and "100 Top Advisors" by Mutual Funds Magazine.
# # #