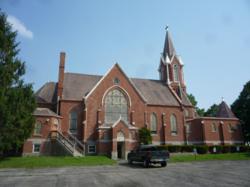 Lake Mills, WI (PRWEB) June 03, 2013
Located in legendary Lake Mills, WI, the former St. Paul's Lutheran Church and more recently the Renaissance Theatre will be up for auction along with over 100 other properties during Micoley.com's July 27th auction event. All properties are located throughout the Midwest including the states of IL, IN, MI, MN, OH & WI. Bids can be placed online, now until the auction event on July 27, 2:00PM CDT.
"This historic and unique building has unlimited potential for a variety of uses," stated Wade T. Micoley, President of Micoley.com. "The property is situated in a prime location in the heart of downtown Lake Mills, where real estate this size is almost impossible to come by."
The 11,284 square foot brick building was built as a church in 1893 with two additions constructed in 1912 and 1973. The building was recently used for theatre groups, weddings, catered events and more. It is situated on a 1.084 acre site with a large paved parking lot with entrances on both Fremont St. and Madison St.
One of the property's most charming features comes from its location in beautiful Jefferson County, Wisconsin; located directly between Madison and Milwaukee. Also perfect for a weekend getaway, Lake Mills has an abundance of natural beauty. From the cooling waters of Rock Lake to the scenic Glacial Drumlin Bike Trail. There is also the historic Aztalan State Park and Museum. The downtown shopping and dining district brings a great amount of traffic to the area.
The list price for this property is $199,500 with an Opening Bid of only $115,000. Interested buyers are not required to be on site, as bidding will take place online at: http://auctions.micoley.com/view-auctions/catalog/id/50/lot/718. The property can be purchased prior to auction so bidders should not waste any time in looking at this unique property filled with unlimited opportunities.
There are over 100 properties to be auctioned of during Micoley.com's July 27th auction event, all with opening bids well below list prices and each one priced to sell quickly. Online bidding ends July 27, 2013 at 2:00PM CDT. All property photos, details and additional information on how to register and place a bid can be found by going to http://www.micoley.com.
All bidders are highly recommended to conduct their due diligence of obtaining all property information and visiting the property in person, if possible. For those new to the auction process, Micoley.com's fully trained staff is available to answer all questions. Visit Micoley.com to "live chat" with an Auction Professional or call 1-866-378-2382.
Micoley.com, located in Green Bay, WI, is a real estate marketing firm specializing in bank-owned properties throughout the United States. Their unique approach to real estate sales is executed through customized marketing programs and project focused auction plans, customized for each of their unique clients. Be sure to visit their website for further auction information, as properties are added daily. Registered Wisconsin Auctioneer Rick Roundy #2475-052.