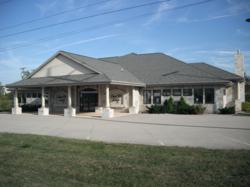 Neenah, WI (PRWEB) July 09, 2013
Formerly known as Casa Di Luigi, this beautiful former gourmet restaurant will be up for auction along with over 100 other properties during Micoley.com's July 27th auction event. Properties are located throughout the Midwest including the states of IL, IN, MI, MN & WI.
The restaurant is located in the Fox Valley of Northeastern Wisconsin, an area with growing businesses and retail stores. The building is only 7 years old and has a total of 8,764 square feet above ground plus an additional 1,300 square feet in the basement. The main level features 7,564 square feet, a two-way fireplace, beautiful bar area with seating, dining area and a movable interior wall for banquet seating.
"The building has been very well maintained and has unlimited potential for anyone looking to embark on a new restaurant endeavor," according to Wade T. Micoley, President of Micoley.com. The upper level features 1,200 square feet of private quarters, which would be an ideal space for offices. The building features a full basement with 2 bathrooms, a 4-zoned HVAC and a sprinkler system. The property also features a paved parking lot with 42 stalls and large pylon sign along U.S. Hwy 41.
"The large 1 acre site is located in a growing area of the Fox Valley, where many large corporations call it home; Pierce Manufacturing, the Outagamie County Airport, Kimberly-Clark Corporation, Gulfstream Aerospace and the Fox River Mall are just a few," stated property owner Tonni Larsen. "Visibility of the property is tremendous, with over 65,000 vehicles per day off of State Hwy 41. Real Estate with this visibility is near impossible to find in the Fox Valley," also stated Larsen.
The list price of this restaurant is $1,200,000, with an opening bid of $650,000. Interested buyers are not required to be on site, as bidding will take place online at: http://auctions.micoley.com/view-auctions/catalog/id/50/lot/592. The property can be purchased prior to auction so bidders should not waste any time in looking into this great opportunity.
There are over 100 properties up for auction during Micoley.com's July 27th auction event. Online bidding ends July 27th, 2013 at 2:00PM CDT. All property photos, details and additional information on how to register and place a bid can be found by going to http://www.micoley.com.
All bidders are highly recommended to conduct their due diligence of obtaining all property information and visiting the property in person, if possible. For those new to the auction process, Micoley.com's fully trained staff is available to answer all questions. Visit Micoley.com to "live chat" with an Auction Professional or call 1-866-387-2382.
Micoley.com, located in Green Bay, WI, is a Real Estate marketing firm specializing in bank-owned properties throughout the United States. Their unique approach to Real Estate sales is executed through customized marketing programs and project focused auction plans, customized for each of their unique clients. Be sure to visit their website for further auctions, as properties are added daily. Registered Wisconsin Auctioneer Chad Micoley #2597-052.