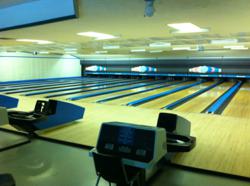 Wellston, OH (PRWEB) June 18, 2013
Located in Jackson County in Southeastern Ohio, the existing turn-key bowling alley known as Trio Lanes will be up for auction by online Real Estate auction firm Micoley.com. Bids can be placed online now until the auction event on June 22nd. The property can also be purchased prior to auction.
Built in 1958, Trio Lanes Bowling Alley has been a favorite local spot for many years with a solid customer base. It is continuing to grow in popularity as a place for folks to unwind and have fun. The bowling alley has been updated and modified and includes a new roof and updated electrical systems.
This turn-key opportunity includes all bowling equipment, a transferable liquor license, snack bar, shop area, rest rooms and much more! "Trio Lanes is a perfect place to start if one is seeking to begin or expand upon their entrepreneurial or investment career," stated Wade T. Micoley, President of Micoley.com. The building is 9,357 square feet and is situated on a .492 acre lot.
Wellston, known as the "Tree City," is a blue collar town founded in 1873 as an iron and coal producing center. It is located in the northern part of Jackson County and has an abundant labor force among the three counties. A railroad and locally owned trucking companies provided many opportunities for the Wellston industry. Wellston is also approximately only 30 miles from the well-known Ohio University and is near the Kentucky and West Virginia borders.
The list price of this property is $295,000 with an opening bid of $195,000. Interested buyers are not required to be on site, as all bidding will take place online at: http://auctions.micoley.com/view-auctions/catalog/id/49/lot/297.
The seller of this property will entertain, and may accept, offers prior to the auction date. All bids and offers must be placed online prior to the auction on June 22, 2013 at 2:00PM CT. In addition to this property, Micoley.com is featuring over 100 properties throughout the Midwest at their July 27th auction event. All properties are priced to sell quickly with low opening bids and may be purchased prior to auction.
All bidders are highly recommended to conduct their due diligence of obtaining all property information and visiting the property in person, if possible. All property photos, details and additional information on how to register and place a bid can be found by going to http://www.micoley.com. For those new to the auction process, Micoley.com's fully trained Auction Professionals are available to answer all questions via the "live chat" on their site or by calling 1-866-387-2382.
Micoley.com, located in Green Bay, WI is a Real Estate marketing firm specializing in bank-owned properties throughout the United States. Their unique approach to Real Estate sales is executed through customized marketing programs and project focused auction plans, customized for each of their unique clients. Be sure to visit their website for further Auctions, as properties are added daily.