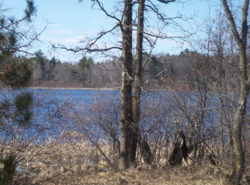 Siren, WI (PRWEB) May 29, 2013
Located in Northern Wisconsin near the Minnesota border, 80+ acres of beautiful lakefront development land, at East Pointe Park in Burnett County, will be up for auction later next month by Real Estate auction firm Micoley.com. Bids can be placed online now, until the auction event on Saturday, June 22, 2013. Many other properties will also be up for auction during this event.
This prime vacation area includes a total of 83.16 acres on natural, well preserved land and is nestled along Long Lake. The development is broken up into 27 wooded, natural lots, some with lake-frontage, as well as 2 out lots. "This secluded development parcel poses great opportunity for any developer. The area is busy year round," according to Wade T. Micoley, President of Micoley.com. "Now is the perfect time to buy; all lots are being sold together at one great price."
The area is surrounded by many lakes and visitors and residents enjoy a host of year round recreational activities ranging from golfing, boating, skiing, fishing, hiking and biking to hunting, snowmobiling and ice fishing.
The list price of this development is $395,000 with an opening bid of $195,000. Interested buyers are not required to be on site, as bidding will take place online at: http://auctions.micoley.com/viewauctions/catalog/id/49/lot/721/.
Online bidding ends June 22, 2013 at 2:00PM CDT. All property photos, details and additional information on how to register and place a bid can be found by going to http://www.micoley.com. In addition to this property, Micoley.com will also be featuring over 100 properties up for auction later this summer on July 27th. Each one is priced to sell quickly with opening bids well below list prices. All properties may be purchased prior to auction.
All bidders are highly recommended to conduct their due diligence of obtaining all property information and visiting the property in person, if possible. For those new to the auction process, Micoley.com's highly trained staff of auction professionals are available to answer all questions. Visit Micoley.com to "live chat" with an auction professional or call 1-866-378-2382.
Micoley.com, located in Green Bay, WI, is a Real Estate marketing firm specializing in bank-owned properties throughout the United States. Their unique approach to Real Estate sales is executed through customized marketing programs and project focused auction plans, customized for each of their unique clients. Be sure to visit their website for further Auctions and Sales Event information, as properties are added daily. Registered Wisconsin Auctioneer Rick Roundy #2475-052.