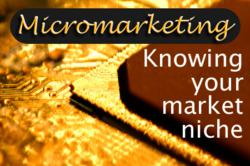 "The key to the firm's remarkable turnaround was its new ability to combine, sift, and sort vast troves of data to develop a highly efficient sales strategy." ~ Harvard Business Review July - August 2012
Excelsior, MN (PRWEB) July 02, 2012
To help businesses keep up with how consumers use media, Integral Media marketing consultants find value in a recent Harvard study on micromarketing. Incorporating new results, Integral Media's focused marketing approach makes faced-paced decisions easier for businesses. In the sea of information today, it is impossible to keep up with every new marketing idea. Business Insider tells us, "Technologies have come and gone. The things that have stayed the same are that there's a fundamental need to be heard, to express yourself, and to find an audience that will gravitate toward your passion and your point-of-view. By driving advertising strategies for the business segment targeted, micro marketing gets across the right messages through the right multimedia channels."
Harvard Business Review for July and August 2012 states, "Many companies believe that they have a good understanding of the growth prospects for their sales regions or territories, but until sales leaders dice that geography into dozens or hundreds of micromarkets, they will be unable to see which counties, zip codes, or other circumscribed areas are underexploited and which are unlikely to grow. What's more, they will not have a clear idea of whether they're deploying their sales force to the greatest effect."
For selling into micro markets, Harvard continues by saying, "For a micromarket strategy to work, management must have the courage and imagination to act on the insights revealed by the analysis. Most sales leaders deploy resources on the basis of the current or historical performance of a given sales region. We believe that while going after future opportunities at the micromarket level can seem risky, basing strategy on old views of markets and their past performance is riskier still."
When business know how to find micro markets to positively and effectively reach targeted decision makers with the right information, everyone saves time. Correctly identifying distinct audience attitudes, triggers, behaviors, needs and characteristics increases marketing response and ROI. Experain marketing services defines micro-marketing as the ability to "adopt products and marketing programs to match the taste of specific localities and individuals. Increasingly saturated with marketing solicitations, it is becoming necessary to deliver relevant and targeted direct-response marketing offers that stand from the crowd."
The Harvard Business Review on Micromarketing defines three basic steps to discovering and exploiting new-growth hot spots:

Defining your micromarkets and determining their growth potential
using these findings to distribute resources and guide the sales force
incorporating the big-data mind-set into operations and organizational culture.
"The key to the firm's remarkable turnaround was its new ability to combine, sift, and sort vast troves of data to develop a highly efficient sales strategy." ~ Harvard Business Review July - August 2012 Micro marketing enables business to place their latest and greatest achievements, products and services right in font of target audiences. Knowing how to reach niche audiences through micro marketing advertisement placements helps business offer their services as efficiently and profitably as possible.
Hiring A Marketing Consultant Saves Investment Costs
Marketing consultants can find business target niches through micro marketing. Engaging a skilled marketing consultant enables many bonuses to "meet the advanced computing needs of the marketplace without having to invest in the added infrastructure, certifications and personnel to support these higher-end technology solutions services," says Paul Bay, executive vice president of Ingram Micro North America. By outsourcing micro marketing, companies find new business markets.
Integral Media starts by helping businesses continually look for new niche markets that drive business goals. By determining specific solutions to unique business needs, an advantage is gained through uncovering new groups of customers eager to buy. Micro marketing adds advertising strength needed to compete head-to-head in this competitive world and provides clients greater business value and more personalized service. Eric Sims, owner of Integral Media, says when a client hires them as their marketing consultant, they "remove key barriers to entry so that clients find effective creative media executions - even if they lack their own resources and experienced media testing."
Contact Integral Media by calling 952-470-5254 to gain a marketing consultation for top business micro marketing services.