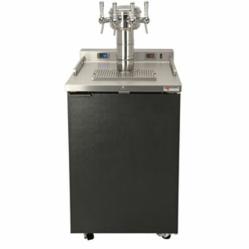 The Micro Matic dual temperature zone wine kegerator has been a real game changer in the premium wine by the glass category.
Brooksville, FL (PRWEB) January 29, 2013
Micro Matic, the leading manufacturer in beverage dispensing technology, is proud to announce that the Pro-Line Wine Dual-Temperature Dispensing system (MDD23W-E) has been selected for the "What's Hot! What's Cool!" product gallery at the NAFEM 2013 trade show.
The Pro-Line Wine dispensing system was developed in close partnership with winemakers to ensure optimum functionality and quality. The wine on tap units are designed specifically for keg wine to maximize the yield of a keg while also ensuring that consistent wine quality is delivered in every glass.
"The Micro Matic dual temperature zone wine kegerator has been a real game changer in the premium wine by the glass category. It allows me to offer my guests a wider selection of premium wines on tap, without worrying about cork or oxidation problems, spoilage or waste," said Jeff Barba, Director of Food and Beverage at the Westin Kierland Resort and Spa, Scottsdale, Arizona.
Each year, the NAFEM trade show presents "What's Hot! What's Cool!" to highlight the year's innovative products in the foodservice equipment and supplies industry. The selected products must feature forward-thinking innovations and show tangible improvements to foodservice operations.
Products must fulfill at least two of the four criteria to be selected for the product gallery: aesthetic impact, cost reduction, new foodservice application, and other additional benefits (environmental impact or technological advances).
The Micro Matic Pro-Line Wine system was selected to be a part of this year's NAFEM "What's Hot! What's Cool!" due to its winning combination of all four categories!
Aesthetics: The Pro-Line Wine MDD23W unit can store and serve up to four (4) 20 liter wine kegs. This is equivalent to 104 bottles of wine stored in one compact 31" square unit. The unit features color-coded dual digital thermostats, an easy to clean black vinyl over steel exterior, and a number of dispensing font choices. Pro-Line Wine draws attention to Wine On Tap.
Cost Reduction: Utilizing inert gases and stainless steel kegs, Pro-Line Wine dispensing systems save labor and time by eliminating corkage while protecting the wine from oxidation. Wine on tap eliminates waste and lost profits due to spoilage while also expanding the restaurant's wine by the glass options. Speed of service and easy pouring add to the bottom line.
New Foodservice Application: Pro-Line Wine dispensers are the first systems designed with two dedicated temperature zones: one for white wines (45°F) and one for red wines (55°F). The dual-temperature zones ensure that both whites and reds are served at their optimal temperatures, delivering quality and taste just as the vintner intended.
The innovative and sleek design is also practical and easy to use -- Pro-Line Wine systems plug directly into a standard 110v outlet in your bar, restaurant, or event location.
This portable functionality is a valuable new innovation.
"I can wheel the kegerator into any venue on property; from the ballroom to the lobby bar to the golf course, and monitor every ounce of wine that is sold at the event," said Barba.
Additional/Environmental Benefits: Keg wine systems also reduce the carbon footprint needed to deliver a quality glass of wine. Skipping the excess packaging and production of traditional glass bottles means that each reusable stainless steel keg is significantly reducing greenhouse gases.
Keg wine also reduces solid waste that comes from recycling bottles and corks at the end of a busy night. A 20 liter wine keg represents 26 bottles. In 2012 it's estimated that wine in keg will eliminate over 317,000 bottles from ending up in the landfill.
The Pro-Line Wine MDDW23-E dispensing unit will be on display in the "What's Hot! What's Cool!" product gallery at the 2013 NAFEM Show in Orlando, Florida from February 7 - 9, 2013.
About Micro Matic:
Micro Matic is the world's leading manufacturer and supplier of keg valves and dispensing equipment in over 120 countries. Specializing in draft beer systems as well as wine on tap systems, Micro Matic provides quality dispensing equipment across the nation from regional warehouses that are staffed with knowledgeable personnel. Micro Matic also operates the Dispense Institute where field-trained instructors conduct hands-on draft beer dispensing courses, as well as on-site workshops. Visit our website at http://www.micromatic.com and connect with us on Facebook and Twitter.
Micro Matic USA, Inc.
2364 Simon Court
Brooksville, FL 34604