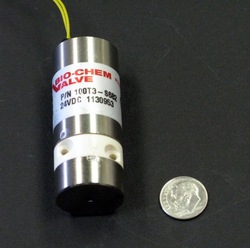 Reading, PA (Vocus) April 9, 2010
Quadrant's Techtron® PPS enables BioChem Fluidics, a leading micro-pump manufacturer, to provide the broadest possible performance range for their line of micro-pumps. Designed for use as miniature fluid handling components, these components include micro-pumps, isolation valves, pinch valves, relief valves and rotary valves are used by the world's leading analytical instrument manufacturers and laboratories participating in today's bio-tech industry. Techtron® PPS has a unique combination of high strength and excellent dimensional stability with chemical resistance to almost all solutions. Techtron's water absorption is among the lowest of all polymers has no known solvents below 392°F. BioChem utilizes Techtron for both pump bodies and manifolds when other polymers such as PEEK, fluoropolymers PTFE and FEP, POM, failed as fluid contact components.
BioChem Fluidics, a Halma Company, uses only Quadrant's Techtron PPS for their micro fluid handling devices. The cleanliness, ability to machine tight tolerances and purity of the material and the availability of many sizes of both rod and plate stock enables BioChem to deliver the purity and reliability their customers expect. BioChem micro-pumps are designed for continuous duty. They are suitable for up to 20 million actuations or nearly 3,000 hours of continuous use at a 2 Hz cycle rate. They dispense volumes ranging from 4µl to 250µl per cycle. The pumps can be cycled at up to 4 Hz for the smallest version and 1.6 Hz for the largest. Bio-Chem Valve products are employed as critical components by instrument manufacturers serving a host of analytical and industrial applications including, chromatography, chemical research, biotechnology, hematology, pharmaceutical analytical research, industrial quality testing, printing and environmental monitoring.
About Quadrant EPP
Quadrant EPP's products range from UHMW polyethylene, nylon and acetal to ultra-high performance polymers that resist temperatures to over 800 °F (425 °C). The company's products are used for machined parts in food processing and packaging, semiconductor manufacturing, aerospace, electronics, chemical processing, life sciences, power generation and diverse industrial equipment. Quadrant EPP's products are supported by a global team of application development and technical service engineers.
Full support in evaluating designs and machining of parts is available from Quadrant Engineering Plastic Products' Technical Support Group. Learn more about Quadrant at http://www.quadrantepp.com .
Acetron, CleanStat, Duraspin, Duratron, Erta, Ertalyte, Ertalene, Ertalon, Extreme Materials, Fluorosint, Ketron, MC, Monocast, Nylatron, Nylasteel, Polypenco, Proteus, Sanalite, Semitron, Techtron, TIVAR and Vibratuf are registered trademarks of the Quadrant group of companies.
NOTE TO EDITORS:
If reader contact information is listed with this item, please send inquiries to Kim Imes or Kress Schwartz, Marketing Communications Team, Quadrant Engineering Plastic Products, 2120 Fairmont Ave. PO Box 14235, Reading, PA 19612-4235. Tel: 800-366-0310, Fax: 800-366-0301.
###