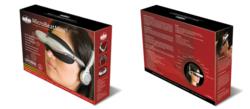 I think of this as a reverse-outsourcing opportunity
Los Angeles, CA (PRWEB) May 18, 2012
Australian manufacturer Innovex Pty Ltd outsources its fulfillment center to the USA. Innovex Pty Ltd., Mindmachines.com and Landgraf Enterprises have entered into an agreement whereby Innovex products such as the MicroBeatMini mind machine will be shipped from a Southern California fulfillment center rather than Hong Kong or Australia.
This agreement enables Innovex of Australia to greatly reduce the cost for shipping MicroBeatMini orders to North America. Landgraf Enterprises, co-owner and operator of Mindmachines.com, can ship a mBm system quicker to North American customers. "I think of this as a reverse-outsourcing opportunity," says Michael Landgraf, CEO of Landgraf Enterprises LLC, "customers will receive their mBm's much faster."
The MicroBeatMini (mBm) light and sound mind machine is an AudioStrobe compatible system that plays music and 'visually translates' the corresponding optical signals. These signals are transferred to the LED light frames via the AudioStrobe decoder circuitry, which receives the specially encoded content from sound sources such as iPhones, CD and MP3 players. The light signals can be modulated very subtly, reacting to the finest of nuances; creating an artistic, three-dimensional blend of audio-visual stimulation.
There are ten separate color choice modes delivered in synchronized or alternating fashion. Experienced users choose modes with green or white, or a combination of green and red, for meditation, creative thought, behavioral modification and relaxed learning. When seeking mental clarity, motivation or energy, they utilize modes providing red, white or a combination of both red and white color stimulation.
The MicroBeatMini (MBM) consists of a new type of LED light frame that encloses the audio decoder, a built-in lithium battery and a total of 16 (8 per side) super bright multi-colour LED's combined with highly effective light reflectors.
Externally the MicroBeatMini Mind Machine features built-in but removable stereo earphones and buttons for controlling the LED intensity, light show modes as well as audio volume. The MBM also includes a standard 3.5 mm audio output socket to allow the use of external stereo headphones, earphones or speakers and a USB socket to allow powering, charging of the MBM and to receive audio input.