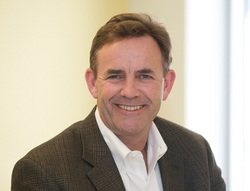 Microbia's goal is to utilize our proprietary, bio-based technology platform to produce nutritional ingredients that will help the food and feed industries make products more innovative, cost-effective and environmentally sustainable
Lexington, MA (PRWEB) April 2, 2009
Lexington, Mass., April 2, 2009-- Microbia, Inc. (Microbia), an emerging leader in the production of sustainable, specialty ingredients and biomaterials from fermentation technology, has appointed Mike Doyle to the newly created position of senior vice president and general manager of nutrition ingredients. Mr. Doyle will have broad responsibility for all aspects of Microbia's nutrition ingredients business, including strategic planning, marketing, sales, operations, supply chain management and strategic partnerships in preparation for the launch of Microbia's line of naturally derived carotenoids for the food ingredient and nutritional supplement markets.
"Microbia's goal is to utilize our proprietary, bio-based technology platform to produce nutritional ingredients that will help the food and feed industries make products more innovative, cost-effective and environmentally sustainable," said Richard Bailey, Ph.D., CEO of Microbia. "Mike Doyle has the experience, energy and skills required to lead this effort, and holds a track record of success managing relevant nutrition businesses. We look forward to drawing on his substantial expertise to establish a strong position in the nutrition ingredients marketplace."
"I am eager to help Microbia bring the vast promise of its exciting technology to market," said Mr. Doyle. "Microbia has a significant competitive position based on its advanced metabolic engineering innovations. Our goal is to become a leading global supplier of nutrition ingredients that deliver significant added value to our customers in the feed, food, beverage, and dietary supplement industries."
Mike Doyle brings more than 12 years of executive management experience to Microbia, including as director, human nutrition for BASF's North American business, and most recently, as president of LycoRed, Corp. in North America. While at BASF, Mr. Doyle oversaw development and marketing of vitamins, carotenoids, food and beverage polymers, and other food ingredients. At LycoRed Corp., Mr. Doyle was responsible for all operations in the North American marketplace. Mr. Doyle is also a former board member and Treasurer of the Council for Responsible Nutrition. He received a B.S. degree in marketing and industrial management from New York University, and an M.B.A. from Michigan State University.
ABOUT MICROBIA (http://www.MICROBIA-PE.COM)
Microbia is an industrial biotechnology company applying proprietary metabolic engineering to create cost-effective, renewable specialty ingredients and biomaterials. Microbia will develop and commercialize its products through direct sales and strategic alliances, including an ongoing multi-product joint development and commercialization agreement with Tate & Lyle Investments, Ltd. Microbia's carotenoids will be the first products launched from a diverse pipeline of specialty ingredients, biopolymers and other biomaterials. Microbia was established in 2006 as a majority-owned subsidiary of Ironwood Pharmaceuticals, Inc. and is based in Lexington, Massachusetts.
###