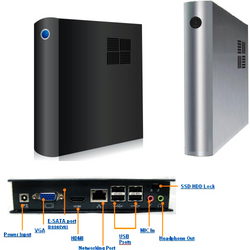 Good things come in small packages
Long Beach, CA (PRWEB) June 23, 2010
Its certainly true in this case. Microbook PC is a new invention now available to the market. Its being manufactured with today's latest nanotechnology. This anti-virus micro-desktop computer weighs less than 2 lbs. It measures 2 1/2 inches thick, about the size of a textbook. Built with the latest nanotechnology, it needs no maintenance. Everything is designed with precision and everything is put in place for a reason. This micro-desktop computer runs with the power of a computer 10 times its size. Built with all high-end components, hardware, and circuitry, it has the quality of a Mac®.
Intel Atom330 1.60 GHz dual core processor
•FSB 533MHz
•2GB DDR2 RAM
•nVIDIA MchipsetCP7A-ION
•IEEE 802.11 b/g / Mini-PCI-E
•SATA 2.5" HDD 160g 5400rpm
•Premium DirectX 10 graphics with advanced digital display connectivity
•Full 1080p HD video
•NVIDIA® CUDA™ technology to accelerate the most demanding applications, vastly improving your PC's ability to work with visual content such as video encoding
•Premium Windows experience with Windows Vista and Windows 7 / XP
Just a glimpse of what you get in every Microbook PC. Pretty impressive for something so small and simple to use right out of the box.
###