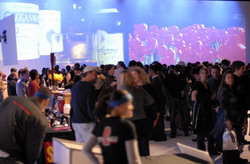 With a wide assortment of beverages to try, your taste buds will be spoiled with flavor
Seattle, WA (Vocus) April 14, 2009
"Hop Scotch" has never been played quite like this! The Hop Scotch Spring Beer and Scotch Festival is a premier two-day microbrew, Scotch and Tequila tasting experience benefiting the Seattle International Film Festival (SIFF) May 8th, 5pm-12am, and 9th, 1pm-12am. The premium beverage tasting features over 70 beverages in the stylish indoor setting of the Fremont Studios (155 N. 35th Street, Seattle, WA 98103).
"With a wide assortment of beverages to try, your taste buds will be spoiled with flavor," says event producer Kelly Pflugrath. The event features new spring microbrews including, Seattle Weekly's private brew, Voracious Imperial Red, handcrafted by Lazy Boy Brewing. Other handcrafted beers will be on hand to welcome the spring, and kick-off the inaugural year of Seattle International Beer Week.
For those that seek libations of other forms, Hop Scotch offers Scotch Seminars , where Master of Whiskey Ari Shapiro will educate guests on the "secrets" of Scotch during a one-hour guided tasting seminar. The seminar is created for novices and connoisseurs alike with education and tasting techniques discussed over a flight of 11 - ¼ oz. tastes.
Solo sippers will have an opportunity to explore The World of Whiskey, with a flight of five ¼ oz. tastes hand-picked by Shapiro. Guests can also take a journey to the Don Julio Cantina for a flight of five ¼ oz. select Tequilas.
Visit http://www.hopscotchtasting.com or call 206.633.0422 for more information. This is a 21 and over event.
Contact: Phil Megenhardt
Office: 206.633.0422
Cell: 206.295.1891
###