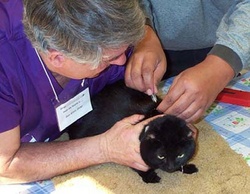 an increased potential for pets to be euthanized while their owners believe them to be safe
WASHINGTON (PRWEB) September 6, 2007
Under the Animal Welfare Act (AWA), the Animal and Plant Health Inspection Service (APHIS), a division of USDA, has the authority to regulate most warm-blooded animals used for exhibition, research, and the wholesale pet trade. The report states that "APHIS supports the microchipping of pets" and that it is "very interested in working with microchips manufacturers, humane organizations, veterinarians, and other stakeholders to explore options to increase the effectiveness of microchipping."
Dan Knox, D.V.M., Task Force Member of the American MicroChip Advisory Council for Animals (AMACA) declared: "It is undisputed that microchips save pets' lives. I expect that countless pets that are lost or displaced by hurricanes and other natural disasters will be saved over the years because the USDA supports and encourages the use of microchips."
The report also addresses a microchip used in some foreign countries, the ISO 134.2 kHz microchip. Some proponents of ISO 134.2 kHz chips had advocated that Congress replace 125 kHz chips already used in the United States with ISO chips and to have APHIS require use of those chips. However, APHIS' report did not make such a recommendation.
Concerns over the introduction of ISO 134.2 kHz chips were played out in a U.S. court in 2004, after at least one pet unfortunately was euthanized based on the fact that the pet had been implanted with an ISO 134.2 kHz chip that was not read. A California court halted the marketing and distribution of 134.2 kHz chips by Banfield, The Pet Hospital. The Court specifically stated that because "the majority of shelters" in the United States use scanners that could not read ISO 134.2 kHz microchips, there was "an increased potential for pets to be euthanized while their owners believe them to be safe" creating a "potential for serious, irreparable harm."
APHIS' report remarks that "approximately 80 percent of the scanners in this country can read only the 125 kHz chip" and of pets with microchips in the United States, "98% are microchipped with a 125 kHz chip." Thus, the report notes the significant shortcomings of use of ISO chips in the United States, despite years of efforts by their proponents.
The report was the result of two years of study by APHIS, which included six public meetings held throughout the U.S. and over 1,000 written comments from the public.
Hannis Stoddard, D.V.M., president and founder of Avid, the leading manufacturer of pet identification microchips stated, "As it is now undisputed that 98% of American pets that are microchipped are chipped with a 125 kHz chip and that so many scanners used in this country only read 125 kHz chips, to save the most U.S. pets, animal care providers should use 125 kHz chips.
"It is a testament to Congress, the USDA and APHIS to see through the rhetoric and not push for an overhaul of the current system, a system that works and saves pets," added Stoddard. "It is incredible to think that some would advocate that Congress endorse use of microchips that had been halted in court. We hope APHIS' report puts the debate to rest -- the current system works and should be embraced."
The APHIS Report demonstrates the importance of organizations like AMACA, whose mission is to support microchip identification and to do the right thing for animals and their owners. AMACA has been instrumental in educating veterinarians, pet owners, and other interested parties about pet microchips.
Noted Knox, "APHIS' report underscores that microchips are for the benefit of pets and their owners. The government's strong endorsement of microchipping sends a message to all companies wanting to do business in this arena that their products must first and foremost provide a highly effective means for reuniting pets with their owners, such as current 125 kHz chips do."
For more information about AMACA visit http://www.amacausa.org
For more information about AVID visit: http://www.avidid.com